With less than a year separating the publication of two age related issues of the Journal of British Cinema and Television the urgency and relevance of such scholarship is thrown into sharp relief. In the context of an ageing population and its connection to British cinema and television cultures, this kind of sustained scholarly interest is long overdue.
According to Age UK, over a third of the total UK population is aged 50 years and over, and half of these are aged over 60 (2016: 3), while the United Nations reports that the world's population aged 60 years or over has increased from 8 per cent in 1950 to 12 per cent in 2013 (2013: 11).
In the cinema sector, the British Film Institute reports that UK films have 'a particularly strong appeal for those aged 55 and above' (2015: 2), while the popular appeal of cinema for older audiences has resulted in, and is supported by, the proliferation of 'Silver Screen' clubs in both independent and commercial chains. Equally, some of the British film industry's most profitable films of the last decade, such as The Best Exotic Marigold Hotel (2011) which grossed more than $46 million from a $10 million budget, have emerged from those featuring the concerns of the ageing population. Over the same period, critically acclaimed and popular television series, such as the 2013 winner of the British Academy for Television Award for Best Drama Series Last Tango in Halifax (BBC1, 2012–16) which averaged viewing figures of over seven million, have amply demonstrated that screening old age is a viable enterprise. Yet, British screen studies has kept pace neither with demographic shifts, nor with ageing viewers and audiences, nor with the current proliferation of film and television productions that feature ageing protagonists played by ageing actors.
Old age is both deeply personal and universal, though its specific manifestations are historically, socially and economically specific. If we are lucky enough, we will all get old. Meanwhile, for most of us and regardless of our individual chronologies, old age exercises personal impact, either now or in the future as it figures in our own particular life course, in our concerns for loved ones, or even for the unloved of our communities.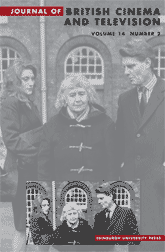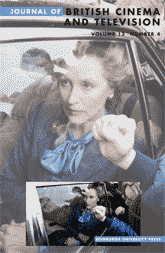 While old age intersects with other identity formations like race, ethnicity, gender, sexuality, disability and class in complex ways that undoubtedly exacerbate existing inequalities and privileges, nonetheless it remains a common issue that touches us all. Consequently, the kinds of representations we see on our screens are a matter of personal import that has major ramifications for broader society. We thus suggest that representations of old age, the processes that produce them, and the ways in which they are circulated and used need to be given the kind of critical scrutiny accorded to representations of race, gender and sexuality in order to identify, and unpack, pejorative stereotypes that chime with the
Crucially, the articles and interview published in 'Screening Old Age' combine with those contained in Boschi and Geraghty's guest edited issue, 'Gender, Ageing and Sexuality in British Cinema after Thatcher',  and together establish a valuable foundation for necessary further research.
By Josephine Dolan, Guest Editor of 'Screening Old Age'.