by John White
In the first of a short series of extracts from British Cinema and a Divided Nation (EUP, 2022), John White looks at Mary Queen of Scots (Josie Rourke, 2018).
In this film we are presented with a violent society. In particular, it is a society full of male violence against women, which may be physical or verbal. With great force and clarity the film opens and ends with Mary's (Saoirse Ronan) beheading. In the opening, she enters a room packed with men and they part to reveal at the heart of this mass of men the ultimate symbol of violence, the executioner's block. She walks towards it and the men close around her and stand in tight formation in order to witness the final act. There is a shot from the side that shows Mary, in the right-hand half of the frame, kneeling before the block which occupies the left-hand half of the frame. The out-of-focus bodies of men take up the edges of the screen to left and right emphasising the final entrapment of this woman. Standing upright in the middle of the shot is the executioner's axe with its shaft slicing through the centre of the shot.
This scene and this shot summarise the whole film, particularly when a (man's) hand pushes Mary roughly from behind to force her neck down on to the block. This is a film about the division between men and women, about the difference between them, and about the violence done to women in a man's world. Mary has transgressed the boundaries placed by men on what a woman can do and on what she should be, and she must be punished for that. She has sought to operate within the world of men and is to be judged according to male codes, values and norms.
In fact, Mary did not seek this; as she makes clear when addressing one of her ladies-in-waiting it is rather the case that as a queen she has been given a role to play within a patriarchal world.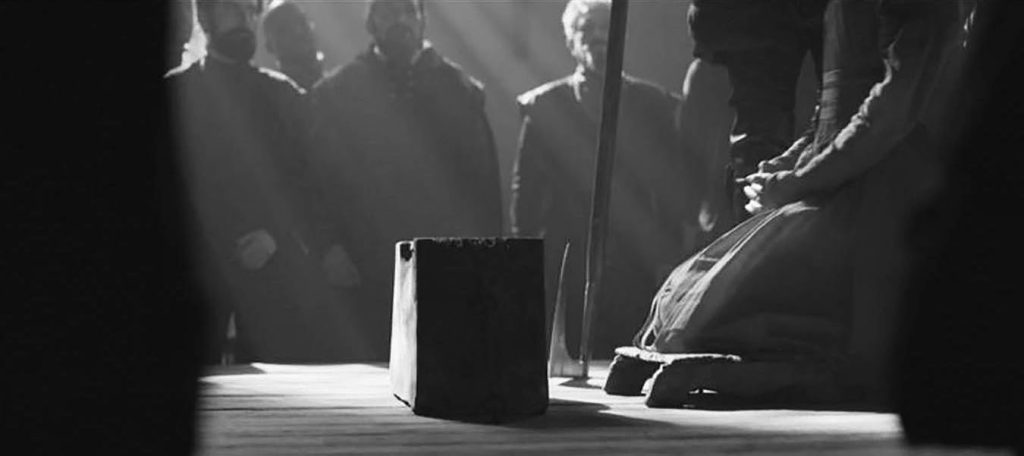 Both Mary and her adversary, Elizabeth (Margot Robbie), the Tudor queen of England, are well aware of the nature of this male world into which they have been thrust. When Lord Darnley (Jack Lowden) suggests he and his father have come to Scotland because 'here we are free to worship as we choose,' Mary's immediate response is, 'I doubt it is faith that brings you, rather the land your father seeks and even the throne.' Later, Elizabeth comments to court favourite, Robert Dudley (Joe Alwyn), in a simple phrase that sums up both the difference and the distance this film sees as existing between men and women, 'How cruel men are.'
Although both women have their ladies-in-waiting providing a support network of sisterhood, both are – because of their exposed positions as monarchs – 'alone'. During a filmed meeting between the two women that in historical reality never happened the script has Mary saying, 'I am utterly alone,' to which Elizabeth responds, 'As am I, alone.' Two short, sharp phrases, which mirror each other in the way in which they end with the word 'alone', emphasise the position of these women. Again, a single shot works to force home the point that is being made about these monarchs.
Halfway through the film we see Elizabeth on a palace rooftop discussing the royal succession with her chief minister, William Cecil (Guy Pearce). When Cecil leaves, Elizabeth remains alone on the rooftop. The camera looks down on her in a long shot as she stands with what we know from earlier shots is a view across the Thames, her capital, and her kingdom. And yet, here she is, as Mary has it later, 'utterly alone'. In a sense what we see is someone who is elevated and free, existing above all others, and yet at the same time she is also small within the frame, alone and ultimately trapped in this position.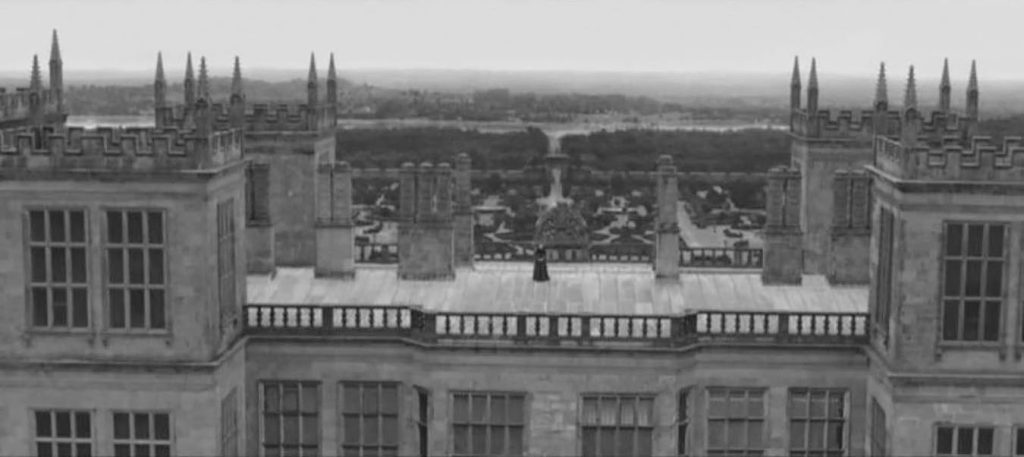 ---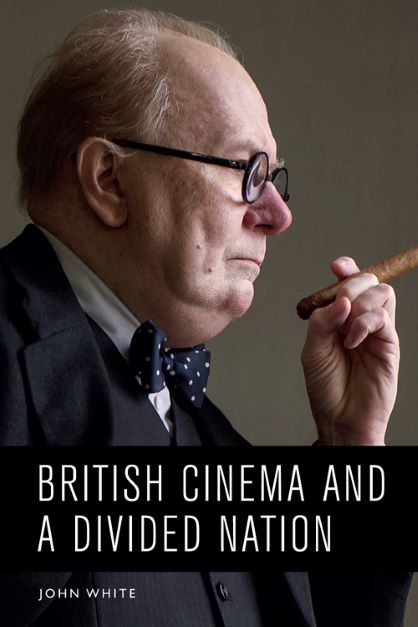 About the Book
British Cinema and a Divided Nation examines representations of the nation found within contemporary British cinema, against a backdrop of rising political tensions and deepening social divisions following the 'Brexit' referendum of June 2016.
---
About the Author
John White is an independent scholar who until recently taught film at Anglia Ruskin University. He is co-editor of Fifty Key British Films (Routledge, 2008), Fifty Key American Films (Routledge, 2009) and The Routledge Encyclopedia of Films (Routledge, 2014). He recently contributed chapters to books on Budd Boetticher and Delmer Daves in the Edinburgh University Press ReFocus series, and is the author of Westerns (Routledge, 2011) and European Art Cinema (Routledge, 2017) and The Contemporary Western: An American Genre Post-9/11 (EUP, 2019).
---
Sign up for our mailing list!
Interested in learning more about this book and other titles from Edinburgh University Press? You can sign up for our mailing list here!
You can also read more of our film studies blogs here.