17 February 1954 to 21 March 2020
A year has now passed since the death of Richard Sharpe, Professor of Diplomatic in the University of Oxford, and Fellow of Wadham College.[1] The cruel abruptness of his passing – suddenly, unannounced and alone – left those who knew him stunned, but the anniversary of that loss provides an opportunity to reflect on his legacy in the field of Scottish Catholic history with a special online issue of the Innes Review dedicated to the articles published in its pages over a quarter of a century.
One of the many irons in the fire that Richard kept glowing throughout his scholarly life was his interest in Scottish history. It is well known that his first scholarly publication was on the history of Raasay.[2] It is perhaps less well known that in recent years he was not only an important contributor to the Innes Review but also a very active member of its editorial board. Still more untold was his rare proficiency and experience as a preacher in Latin, a quality that one happily imagines, of all journals, he may have held in common with one or two of the learned readership of this one.
Richard had been enjoying Latin since his early boyhood, a foundation on which he built his success in part I of the Classical tripos at Cambridge. A switch to Anglo-Saxon, Norse and Celtic for part II gave him the tools for his work on the Latin Lives of the Irish Saints and the attributes for his first 'day job' as an editor at the Dictionary of Medieval Latin from British Sources.
His proficiency in the literature of classical antiquity, both Greek and Latin, combined with his work on the Latin Lives of the Irish saints, occasioned his first contribution to the Innes in 1991. 'The Life of St Columba in Latin verse by Roderick MacLean (1549)' gives an analysis of the poems, section by section, in Roderick Hectorson MacLean's Ionis, a work printed at Rome in 1549 by Antonio Blado, printer to the Holy See.[3] Richard identifies in MacLean's poems sixteen different Latin metres, mostly derived from Horace, and provides commentary on how MacLean paraphrased the first two books of Adomnán's Vita S. Columbae.
'In quest of Pictish manuscripts', published in 2008, offers us a window onto gentlemanly scholarship in the age of the antiquaries, introducing us to the Celtic investigations of Humfrey Wanley and Edward Lhwyd at the turn of the seventeenth and eighteenth centuries.[4] Here we see the skill of the bibliographer at work as Richard revisits a manuscript at Gresham College that had been described as a history of Pictland in the Pictish language, but which Wanley had realised in 1698 was Irish medical translations from Latin, made at the beginning of the sixteenth century, together with a note about Pictish provinces. Richard identifies the hand as that of the owner of the book, Lord William Howard (1563–1640), rather than the historian William Camden (1551–1623) as was previously thought. Wanley's correction, picked up by Edward Lhwyd in 1702, combined with Lhwyd's discovery of the Old Welsh englynion in the Cambridge copy of Juvencus, led to his exchanging views with Wanley on this and other manuscripts containing early Brittonic words. Between 1702 and 1707 Lhwyd developed a theory that the Juvencus manuscript was written in the land of the Picts and that its Welsh verses were in the Pictish language. Lhwyd's idea that Pictish was similar to British was followed by Thomas Innes (1729), and one of the key attributes of this article is to show how early this idea goes back, something that Pictish scholarship had not recognised up to this point.
Running to ninety-eight pages, 'Iona in 1771. Gaelic tradition and visitors' experience', was noticed in the Ulster Journal of Archaeology as a 'monumental article'.[5] Richard here traces an account of Iona recorded in April 1771, and otherwise best known through a reprint of 1883 in which it was claimed to be 'Translated from the Irish', to its original publication, in English, in a weekly magazine in 1774. Richard provides an edition of the text with detailed annotations, conjecturally identifying the writer as the Revd Donald McNicol of Lismore. The article reintroduced to scholarship an important witness to Catholic tradition about Saint Columba and reveals how the sites and monuments shown to visitors and the stories told changed in response to those visitors' own knowledge and expectations.
Having begun his contributions to the Innes with material from the sixteenth century, progressing in turn through the seventeenth and eighteenth, subsequent contributions moved backwards in stages through the fifteenth and fourteenth centuries ('Comforting sentences from the warming room at Inchcolm abbey')[6] to end up finally in the thirteenth century with 'King William and the Brecc Bennach in 1211: reliquary or holy banner?'.[7] What turned out to be his last article in the journal deals with an icon of medieval Scotland, the Monymusk Reliquary, and brought to bear Richard's skills as a lexicographer as well as a diplomatist. The article begins with Joseph Anderson's Rhind Lectures of 1879 where he argued for identifying the Monymusk Reliquary with the Brecc Bennach, an object whose custody was granted to Arbroath abbey by King William in 1211. This identification had been called into question in 2001, parts of that argument relying on different interpretations of the Latin word uexillum, 'banner', taken for a portable shrine by William Reeves and for a reliquary used as battle-standard by Anderson. Richard argues that the Brecc Bennach is referred to as a 'banner' in two fifteenth-century deeds simply as a guess at its long-forgotten nature. He notices, however, that brecc was used in the name of an extant reliquary, Brecc Máedóc, first mentioned in one of the Irish deeds copied in the Book of Kells: Anderson was therefore correct to think this provided a clue to the real nature of the Brecc Bennach as almost certainly a portable reliquary, of unknown provenance but associated with Saint Columba. Although its traditional power was to bring victory through Saint Columba's symbolic presence, perhaps coming from some church of St Columba, Richard thinks it highly unlikely that it had been carried into battle by kings of Scots before 1211, otherwise the king wouldn't have let it out of his sight. The king had granted custody of the Brecc Bennach to the monks of Arbroath at a time when he was facing a rebellion in Ross: 'it may have mattered that the Brecc was on the king's side and not in the hands of his enemies', Richard concludes, 'even if the outcome was its retirement from battle'.[8]
Richard's principal project during his tenure of the Readership in Diplomatic at Oxford (later becoming a personal chair) was to edit and interpret the charters of William II and Henry I, amounting to around 2000 documents in over 300 archives. This work on English royal acta was a direct inspiration for recent scholarship on Scottish charters, and his publications and talks on writs, writ-charters, address-clauses and dispositive verbs served as points of reference for the AHRC projects, 'The Paradox of Medieval Scotland' and 'The Breaking of Britain' (on which the People of Medieval Scotland database is founded), as well as 'Models of Authority' (for which Richard was a member of the Advisory Group). To this work in the field of Scottish charter scholarship, Richard also made his own significant contribution in another characteristically monumental essay on the charter evidence for people and languages in the eleventh and twelfth centuries.[9]
More fundamentally, Richard's approach to history – the exceptional depth and range of his understanding of sources, and his ability to bring them to life as texts and objects created and handled by real people in the past – was a beacon for others to navigate by. On a trip to Inchcolm Abbey (where Walter Bower wrote Scotichronicon), accompanied by Dr Simon Taylor and the present editor of this journal, Richard was determined that we could complete the fragmentary sentences that survive on the walls of the warming room and then identify their source. The result was a note in the Innes Review ('Comforting sentences', produced in short order) which identifies the four sentences as all coming from a single fourteenth-century collection called Manipulus Florum. That short note allowed Chris Nighman to identify the previously unnoticed reception of Manipulus Florum in Bower's Scotichronicon.[10]
Richard's commitment to understanding the past extended well beyond the written word. In the summer of 2019, he was part of a two-week sailing expedition in Argyll to learn at first hand what it was like to travel in the age of the saints. Knowledge of geography, landscape and travel acquired from personal experience was an attribute of his writing and was most evident in the introduction and notes to his translation of Adomnán of Iona's Vita S. Columbae, published in the Penguin Classics series. (There can be hardly a cleric in Scotland who does not possess a copy of this volume.) His fine and flowing rendering of Book III, chapter 23 ('How our patron St Columba passed to the Lord') was read at Richard's funeral. The parallel with Richard's own departure from this life, sometime between the completion of Saturday and earliest hours of Sunday, stirs up a keen pang that yet draws an outline of comfort.
The final lines of the Life of St Columba are perhaps the most apt of all by which an editor may remember the diplomatist, palaeographer, codicologist, historian, editor, translator, lexicographer, bibliographer, co-worker and friend, who left this world pencil and page proofs in hand:
I beseech any who wish to copy these books, nay rather I call on them in the name of Christ, the judge of the ages, that when the copying has been done with care, they should then diligently compare what they have written with the exemplar and correct it, and they should add this injunction here at the end of what they have written.[11]
As editor of this journal, Richard's guidance and support will remain deeply appreciated. I thank God not only for Richard's life and scholarship but also for the blessing that it was to have been a part of it.
ἐδάκρυσεν ὁ Ἰησοῦς. ἔλεγον οὖν οἱ Ἰουδαῖοι, Ἴδε, πῶς ἐφίλει αὐτόν.
---
[1] This piece expands on a short appreciation written by Professor Dauvit Broun FBA (Editor of the Innes Review 1991–1999) and Dr John Reuben Davies (current Editor), published on a tribute page hosted by the website of the University of Oxford's Faculty of History at https://www.history.ox.ac.uk/tribute-professor-richard-sharpe-fba (accessed 16 March 2021).
[2] Raasay. A Study in Island History (London: Grant & Cutler, 1977); Raasay. A Study in Island History—Documents & Sources, People & Places (London: Grant & Cutler, 1978).
[3] IR 42 (1991), 111–32. At the time, the only known copy was in Aberdeen University Library, but a second was later found in Perugia. Dr Alan Macquarrie, University of Glasgow, is currently preparing a new edition.
[4] IR 59 (2008), 145–67.
[5] IR 63 (2012), 161–259. Brian K. Lambkin referred to 'Richard Sharpe's monumental article' (review of Brian Lacey, Saint Columba, His Life and Legacy, in Ulster Journal of Archaeology 3rd ser. 71 (2012), 188–9, at 189).
[6] (with John Reuben Davies and Simon Taylor) IR 63 (2012), 260–66.
[7] IR 66 (2015), 163–90.
[8] p. 190.
[9] 'Peoples and languages in eleventh- and twelfth-century Britain and Ireland: reading the charter evidence', in The Reality behind Charter Diplomatic in Anglo-Norman Britain, ed. Dauvit Broun (Glasgow, 2011), 1–119.
[10] Chris L. Nighman, 'Walter Bower's reception of the Manipulus florum (1306) in composing the Scotichronicon (c. 1440)', IR 70 (2019), 55–64.
[11] Adomnán of Iona. Life of St Columba, transl. Richard Sharpe, Penguin Classics (London, 1995), 233–4.
---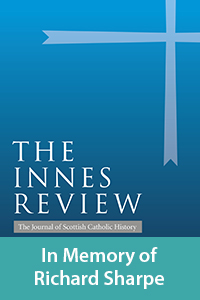 Read the special Virtual Issue dedicated to Professor Richard Sharpe on the Edinburgh University Press website, with 5 free articles from The Innes Review archive.
The Innes Review is the journal of the Scottish Catholic Historical Association. The journal promotes the study of the history of Catholic Scotland, covering all aspects and topics related to Scottish history and culture, including but not limited to: ecclesiastical, cultural, liturgical, architectural, literary and political history from earliest times to the present day.