By Julian Petley and Andrew Roberts
Author's Note: Given the current state of culture war, the Journal of British Cinema and Television is extremely keen to encourage further discussion of the sort of topics covered in this blog post, which relate to British cinema and television's role in helping to construct national identity, popular memory and so on. If we can generate sufficient material, the blog posts could be included in the 'Current Debates' section of the journal. This is an occasional feature, and is not refereed, so material can be published fairly rapidly. Ideally, pieces should not exceed 2,000 words. Find out how to submit an article.
---
For those of us corrupted by immersing ourselves for too many years in fancy film theory, much of it suspiciously 'foreign', it's always salutary to be reminded that there are those who still believe that films simply reflect reality, and that if you want to know what life was like in the past, all you need to do is take a look at the films produced then.
One such innocent is Simon Heffer, as he revealed in a paean to Talking Pictures in the Telegraph, 25 July. This he eulogised as a 'sanctuary' for 'a nation longing for reminders of how life used to be' (at least that's what we think he was trying to say, as 'to be' appeared to have been lost in the 'editing'). According to Heffer: 'It portrays the England millions of us wish we still lived in … It reminds us of an age when we were a steady, reliable, quietly heroic people'. No truck here, then, with theories of representation, popular memory, identity, mythology and all the other airy-fairy ideas beloved by those pesky film academics and with which they fill their poor wretched students' innocent minds.
But, of course, such a position itself cries out for just such analysis, not least in order to lay bare the ideology that informs it. And this isn't exactly difficult, since the article is as much an overt attack on aspects of the present which Heffer despises as it as a tribute to Talking Pictures. Thus Heffer opines that 'most of Talking Pictures' programming celebrates the monoculture; it comes from an age when men were men and women were housewives, "diversity" was a word in hardly anyone's vocabulary … Talking Pictures is the polar opposite of the cancel culture: it reflects a society most of us were quite happy to live in, and would happily endure again. It raises two impish fingers to the small, noisy minority that seeks to dictate how we should think and should feel, and who regard the past – especially the British past – as an epic crime scene and source of shame'.
However, quite apart from any disagreements that one may have with Heffer's dyspeptic view of the present-day UK, his characterisation of the kinds of films and TV programmes which Talking Pictures shows is really quite remarkably myopic. In his article, he refers to Powell and Pressburger, Launder and Gilliat and the Boulting Brothers as helping to form 'the televisual equivalent of a capacious comfort blanket'. Yet there is very little that is reassuring either in the Boultings' I'm All Right Jack and Heaven's Above! or Launder and Gilliat's Only Two Can Play – not least the vulnerable and isolated characters created by Peter Sellers. In 1963 Frank Launder directed and co-wrote Ring of Spies, a dramatisation of the Portland spy ring that features a career-best performance from Bernard Lee. His failed Royal Navy NCO, Henry Houghton, who lives in drably suburban Ruislip, is virtually the inverse image of Jack Warner's PC George Dixon – an outwardly solid figure who craves alcohol and money to shore up his limited dreams.
Meanwhile, Powell and Pressburger's A Canterbury Tale sought not to lull audiences with a cosy pastoral vision of England but to question the very nature of English identity. This provoked a good deal of mystification, and not a little hostility, at the time of its release. Similarly an 'Ealing comedy' could very easily encompass the darkness and subversion of Kind Hearts and Coronets while the Rank Organisation's superficially bright and breezy Genevieve was actually described at the time by Penelope Houston as a picture with 'a hard urban flavour'. Talking Pictures also recently aired The Punch and Judy Man, a still underrated Tony Hancock vehicle which focused on a collapsing marriage and a gallery of sad losers in a gimcrack seaside town.
Indeed, contra Heffer, so many mainstream British pictures from the late 1940s to the 1960s possess such discomfiting qualities that it's tempting to coin the phrase 'bleak down south' to describe them. To take but a handful of many possible examples, the term can be entirely accurately applied to Peter Finch's self-loathing politician in No Love For Johnnie and to the often barely stable John Mills of the deeply noir The Long Memory as well as the socially conscious (and critical) Town on Trial. Equally it fits like a glove Yvonne Mitchell's titular character in Woman in a Dressing Gown, the grey hell of The Deadly Affair and the sordid Soho of The Small World of Sammy Lee. And Pauline Kael noted of John Boorman's remarkable Dave Clark Five vehicle Catch Us If You Can: 'The young refugees from urban corruption look for pastoral innocence and solitude, and find that the corruption has infected the countryside. It is total'.
The same considerations apply to Anglo-Amalgamated's series of crime second features Scotland Yard, which was revamped in 1962 as Scales of Justice. Numerous editions of the former depict a London of bleak, twenty shilling a week bedsits and grim, slum-lined streets. Other films in the series frequently dealt with suburban misery – for example, the alcoholic businessman of The Material Witness or a debt-ridden housewife assaulted by a tally-man in The Payment in Kind. And a particularly austere entry, 1958's The Cross-Road Gallows, features the police discovering a young man who would then have been described as 'mentally retarded' locked in the attic of a farm by his parents.
In fact the best crime films, both B and main features, aired by Talking Pictures, do not so much provide comfort as the opportunity to re-appraise great character actors temporarily liberated from type-casting. Strongroom stars Colin Gordon in a rare dramatic role while Jigsaw features Jack Warner's ageing Detective Inspector worn out by confronting human frailty in a bleak seaside location and a very memorable John Le Mesurier as a grieving father. Heffer rhapsodies over a time when a 'half-crown was a certain passport to happiness' but in Smokescreen Peter Vaughan's hero desperately manipulates his expenses so that he can afford a private nurse for his dying wife. No doubt certain Telegraph readers would become positively irate at such disloyalty to an employer.
Read on to Part Two of this blog article.
---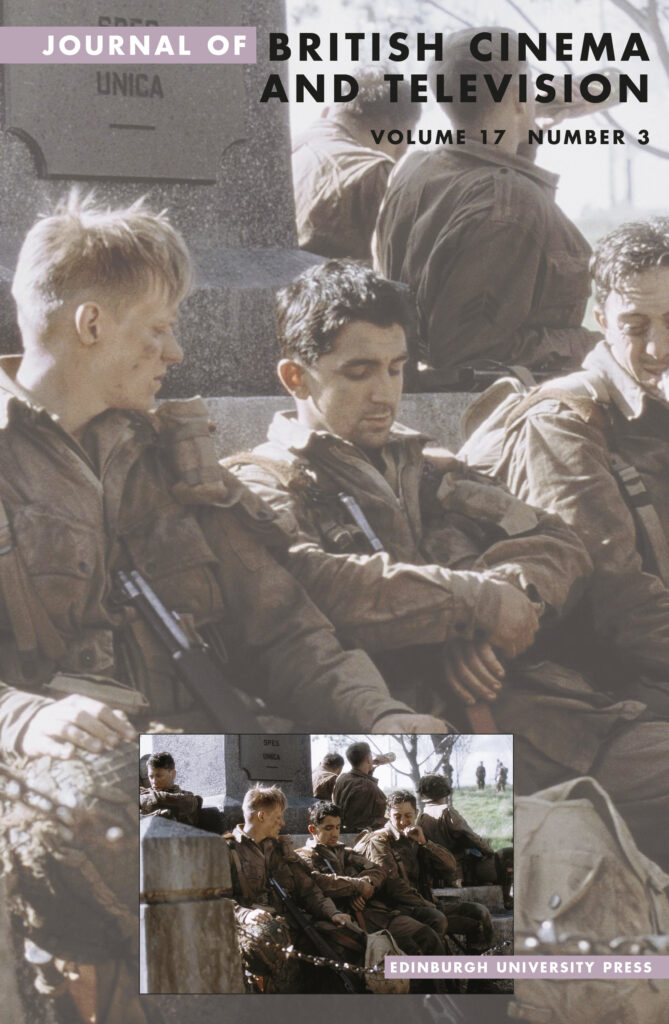 The Journal of British Cinema and Television is indispensable for anyone seriously interested in British cinema and television. Themed issues alternate with general issues, and each issue contains a wide range of articles that encourage debate. Find out more about the journal, how to subscribe, and how to recommend to your library. Sign up for Table of Contents alerts so you never miss an issue.