By Siân Reynolds
When  we were preparing this special issue of Nottingham French Studies (59: 2) which I have guest-edited, we did not know that by the time it appeared the world would be in the grip of the COVID-19 pandemic.  The title of the collection is 'Histoires d'Enfance': French Children in Troubled Times [Eighteenth to Twentieth Centuries] and most of the articles explore the circumstances of children living during momentous historical events. Today, whatever the consequences of the current global crisis,  we can already see that it is having a far-reaching impact on children, teenagers and students in France, Britain and everywhere else. Creches, nurseries, schools and colleges, universities – all have been closed for months. Children and young people have been isolated from their wider family and from their friends, and their education has been disrupted. As they have had to adjust to screens and online teaching,  the old 1968 slogan comes to mind: 'Do not adjust your set: there is a fault in reality.'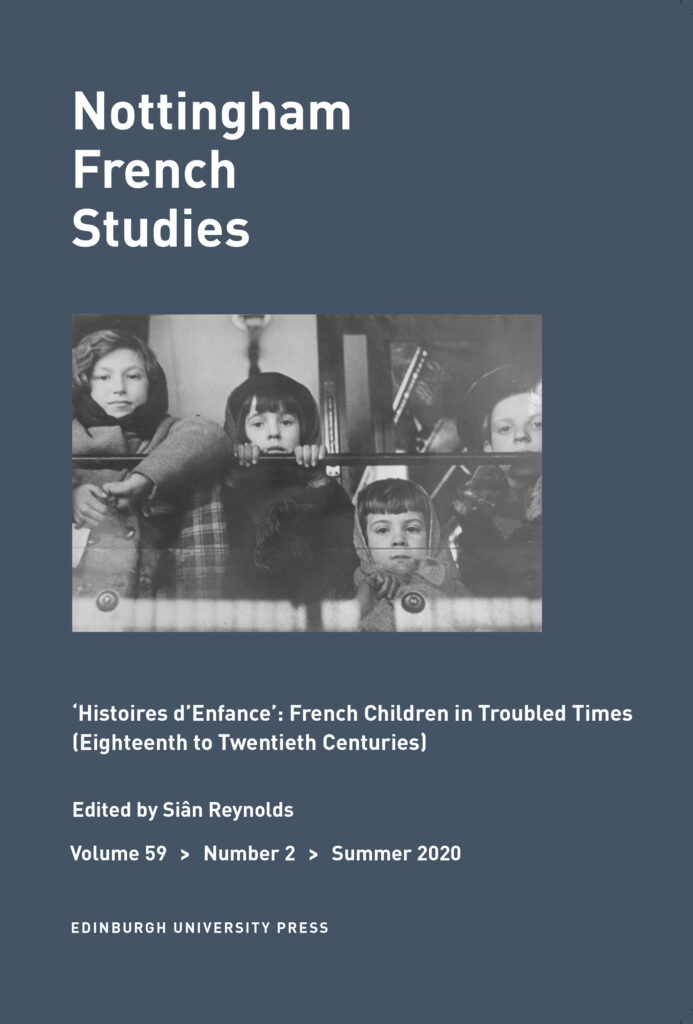 Our collection focuses on French children in a variety of dramatic historical contexts.  It arose from a study day at Nottingham University, where the leading British historian of French childhood, Colin Heywood, has spent his career. Colin has provided here a very full introduction to the topic, moving on from the pioneering work of Philippe Ariès. Three key articles give particular food for thought today, all relating to French children's disruptive experiences during and after the Second World War, a field receiving increased historical interest. Through oral history, Lindsey Dodds explores the real-life experience of child evacuees from Paris to rural France to escape the bombing. Chelsea Sambells and Karen Adler present material on little-known episodes during which children were moved about in the wake of events: the temporary hosting of vulnerable French children in Switzerland in the early years of the war, a project which however fell short of rescuing more than a few Jewish children in 1942; and the camps for French schoolchildren organized by the army in the French Occupied Zone of Germany after 1945.
Other articles in this issue refer to children caught up in earlier or later significant events, including children of French revolutionaries who lost their fathers during the Terror of 1793-4, and the infant son of a First World War deserter. And two articles  take us into personal and cultural territory: Sophie Heywood examines the post-May 1968 flourishing of innovative books for little girls produced by feminist publishers, while Richard Bates dissects the remarkable story of the French approach to autistic children, which has recently moved away from the extraordinary influence of psychoanalysts such as Françoise Dolto.
History can provide a distancing perspective. We can speculate from these stories how past generations of children may have been affected by events in their formative years. But it also prompts us to think that it will be a while before the true impact of this strange new lockdown on an entire generation can be properly estimated.
---
Siân Reynolds is Emerita Professor of French, University of Stirling, and was a Visiting Professor at Nottingham University 2015-2018.
---
Nottingham French Studies  is a journal dedicated to the entire range of French and Francophone studies, including: literature, culture, postcolonial studies, gender studies, film and visual studies, translation, thought, history, politics and linguistics, and covering all historical periods from medieval to the 21st century. Find out more about the journal and how to subscribe, or recommend to your library.