CounterText: A Journal for the Study of the Post-Literary is five years old!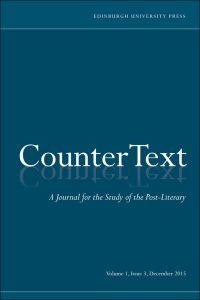 To celebrate the occasion, Edinburgh University Press and the journal's editorial team (based at the Department of English at the University of Malta) have put together a Fifth Anniversary virtual collection.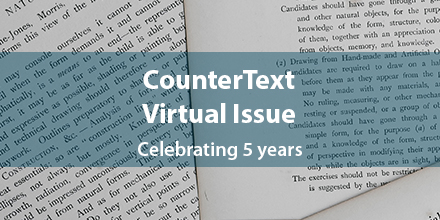 Some highlights of the past five years:
Ongoing reflection on the evolving nature of literature in our time, and on the 'countertextual' and the 'post-literary' – and their critique.
Special issues/clusters on 'Toward Countertextuality', 'Postcolonial Springs', 'Electronic Literature, Again', 'Multisensory Encounters with the Literary', 'The Poetic', 'Thinking Literature Across', 'Afterward/Afterword', 'Audionarratology'.
Interviews with writers, critics and artists. In order of appearance: Tom McCarthy, Timothy Clark, Simon Critchley, Stephanie Strickland, Marie-Laure Ryan, Patrick McGuinness, Judith Butler, Marjorie Perloff, J. Hillis Miller, Charles Bernstein, Ranjan Ghosh, Raja Shehadeh, Tim Parks, Brandon LaBelle.
Articles by leading and emerging scholars, responding to the journal's ongoing inquiry into the changing character and forms of literature today, and/or performing modes of critical writing that are not afraid to be unconventional.
A range of creative and or creative-critical pieces – typically, at least one per issue – by leading and emerging writers, exploring what a countertextual and post-literary aesthetic might involve.
Conferences, panels, presentations and meetings themed around the countertextual and the post-literary at Durham University, University of Cambridge, UCL, Newcastle University, Goldsmiths College, Leuven, University of Bergen and the University of Malta.
Each number of CounterText typically contains one interview, at least one creative or creative critical piece, articles on the countertextual and the post-literary in theory and practice, and a review article.
Sign up to the journal's Table of Contents alerts.
For a sample issue, download for free No. 5.1.
And watch out for No. 6.1: an anniversary issue that will be out later this Spring.
Written by Ivan Callus and James Corby, the General Editors of Countertext.