By Jane de Gay
Good Friday
Good Friday is the most solemn day in the Church's year, when Christians recall the crucifixion. I am usually involved in four services, emerging in the late afternoon tired but with a deep feeling of peace. While Woolf was intrigued by the story of the crucifixion, she saw Good Friday observances from the perspective of an outsider. As a young woman she teased her Quaker friend Violet Dickinson that she was going to drink champagne rather than fast. And yet Woolf also appreciated the sacred character of the day, writing in 1932: 'Such is the atmosphere of days, that I thought this was Sunday, because it is Good Friday. The weather is Sunday weather – divinely good, warm, unclouded' (Diary, vol. 4, p. 86). Again she experienced the sacred through the 'divinely good' natural world rather than ceremonies.
Easter Eve
Easter Eve is a day of preparation in the Christian Church, both spiritual and practical, as churches become a hive of activity in which people decorate the buildings with flowers and candles after the solemnity of Holy Week. Woolf appreciated the spiritual value of places of worship, for she noted an inscription in St Paul's Cathedral (which is a quotation from the set prayer for Easter Eve); yet she also remarked that the civic function of the building and its commemoration of great men detracted from its spiritual purpose:
'True, a heavy bossed door has above it the legend that through the gate of death we pass to our joyful resurrection; but somehow the massive portals suggest that they open not upon fields of amaranth and moly where harps sound and heavenly choirs sing, but upon flights of marble steps that lead on to solemn council chambers and splendid halls.' (The London Scene, p. 53)
---
This is a series of blog posts scheduled throughout Holy Week – read them all as they are posted:

Palm Sunday and Holy Week (posting 15th April)
Maundy Thursday (posting 18th April)
Good Friday and Easter Eve (posting 19th April)
Easter Sunday (posting 21st April)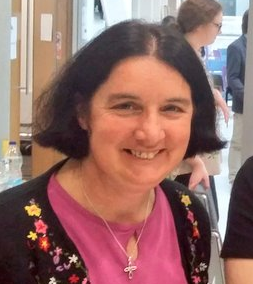 Revd Professor Jane de Gay is Professor of English Literature at Leeds Trinity University and an Anglican priest serving a predominantly Caribbean congregation at St Martin's Potternewton, Leeds.
---
Her most recent book, Virginia Woolf and Christian Culture (Edinburgh UP, June 2018), draws on insights from both her vocations. She is the author of Virginia Woolf's Novels and the Literary Past (Edinburgh UP, 2006) and she has published widely on Virginia Woolf, the most recent pieces including a chapter on intertextuality for Elsa Högberg and Amy Bromley's collection Sentencing Orlando (Edinburgh UP, 2018). She regularly presents her work at academic conferences, such as the Annual International Virginia Woolf Conference and through public engagement talks.