My guest edited special issue of Nottingham French Studies (NFS), explores 'Text, Knowledge and Wonder in Early Modern France', fleshing out new aspects of the sense of wonder that permeates much literature, philosophy, culture, and ritual in the period.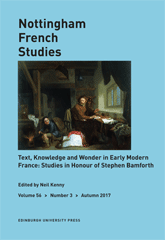 As Genevieve Lloyd has argued in her Edinburgh University Press book, that sense of wonder was later eclipsed by the sublime.
The first two classic studies of wonder and the preternatural in the early modern period that came to mind when I was writing the introduction to this NFS volume were one from the Francosphere (Jean Céard's La Nature et les prodiges) and one from the Anglosphere (Lorraine Daston and Katharine Park's Wonders and the Order of Nature 1150–1750). Those two spheres were indeed both present throughout our volume, in true NFS style.
The volume was in honour of someone, Stephen Bamforth, who, while always being institutionally based in the UK (at the University of Nottingham for over four decades), has long immersed himself not only in sixteenth- and seventeenth-century French culture but also in the social and scholarly scene of seiziémistes inside France. That lifelong combination of the two spheres is visible in the rollcall of contributors to the volume, its first half occupied by contributions from the Francosphere (including Stephen's collaborators, Céard himself and Jean Dupèbe), its second half by ones from the Anglosphere. But the two spheres interact even more deeply on virtually every page. For example in the list of Stephen's publications, the first item is a 1974 Droz edition—with critical apparatus in French—of astrological works by François Rabelais, for which a mainly British team, including Stephen and the Erasmus scholar Anne Reeve, assisted the overall editor, Michael Screech (Reeve's husband). Mike Screech died peacefully on Friday 1st June 2018, having devoted much of his long life to research on towering figures of humanism—Erasmus, Rabelais, Montaigne—while himself becoming in the process a towering interpreter of the Renaissance for specialist and public audiences alike, not just on this side of the Channel but on the other.
My point? It can be summed up in two words: Modern Languages. The immersive study of cultures (such as French) from an anchor-point (such as Nottingham) that lies outside them is not a hybrid second-best to, say, the study of French culture from an entirely French anchor-point. It is a different beast, if a complementary one. It may gain recognition from the natives; it may even influence and inform them (as Screech and Bamforth have done); but it also derives different insights and perspectives from its own intrinsically transcultural position.
---
Neil Kenny is Senior Research Fellow of All Souls College and Professor of French at the University of Oxford.
His current research is on the relationship in early modern France between (i) families, (ii) social hierarchy and (iii) literature and learning. His publications include Death and Tenses: Posthumous Presence in Early Modern France (Oxford: Oxford University Press, 2015), The Uses of Curiosity in Early Modern France and Germany (Oxford: Oxford University Press, 2004) and An Introduction to Sixteenth-Century French Literature and Thought: Other Times, Other Places (London: Duckworth, 2008).
View Stephen Bamforth's article "On Gesner, Marvels and Unicorns" and his NFS special issue sixteenth-century French culture, Nouveaux départs: studies in honour of Michel Jeanneret.