By Robert Morrison
An extract from Romanticism, Volume 23.3, October 2017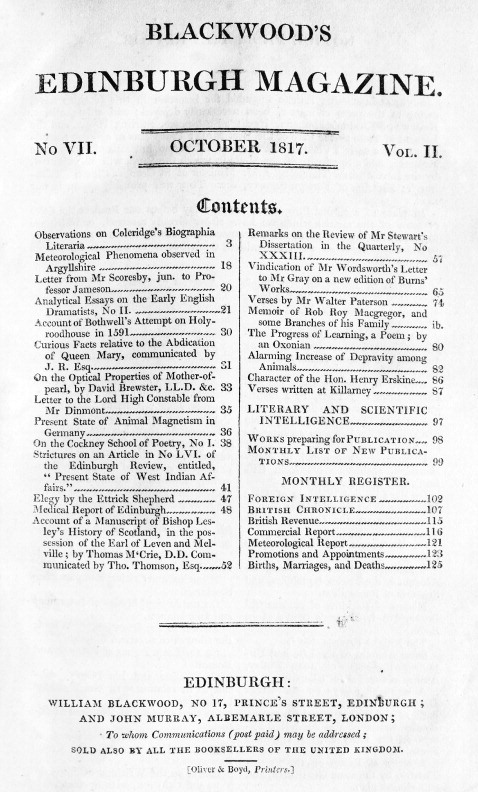 1817 was a remarkable year for British Romanticism
John Keats published his first volume of Poems. Thomas Moore produced Lalla Rookh, Percy Shelley Laon and Cythna, Felicia Hemans Modern Greece, and Lord Byron Manfred and The Lament of Tasso. Jane Austen died in July, and two of her novels, Northanger Abbey and Persuasion, were published together in December (though they were dated 1818 on the title pages). Maria Edgeworth also published two novels together, Harrington and Ormond. Thomas Love Peacock produced his most overtly political novel, Melincourt, and William Godwin his gloomiest, Mandeville. Leigh Hunt and William Hazlitt gathered their essays together in The Round Table. Samuel Taylor Coleridge produced both Sibylline Leaves and Biographia Literaria. Lady Morgan published France, her account of the country in the wake of Waterloo.
The launch of Blackwood's Edinburgh Magazine
Yet perhaps the most significant publication of the year was a magazine. William Blackwood was a forty-year-old, increasingly successful Edinburgh bookseller and publisher, when in April 1817 he issued the first number of his Edinburgh Monthly Magazine, under the joint editorship of Thomas Pringle and James Cleghorn. Frustrated from the start, though, with both editors, Blackwood sacked them in the summer and was himself in the editor's chair when a reconceptualised effort, Blackwood's Edinburgh Magazine, exploded onto the literary scene in October 1817. Blackwood never looked back. Coleridge, Hemans, James Hogg, Walter Scott, John Wilson, J. G. Lockhart, Mary Shelley, Thomas De Quincey, and John Galt were all contributors during his seventeen-year editorship, and that was just the beginning. Elizabeth Barrett Browning, George Eliot, Margaret Oliphant, Anthony Trollope, Thomas Hardy, Oscar Wilde, and Arthur Conan Doyle all contributed to Blackwood's later in the nineteenth century, as did Joseph Conrad, J. M. Barrie, John Buchan, and J. B. Priestley in the twentieth. Blackwood's finally ceased publication in December 1980, after appearing continuously for nearly one hundred and sixty-four years.
The October 2017 Romanticism issue concentrates on Blackwood's opening years as a magazine publisher and editor. It demonstrates that, despite his own dissatisfaction, the Edinburgh Monthly is a finer publication than is often assumed, and one that in many ways sets the stage for Blackwood's, sharing with it an interest in women writers, Scottish and Irish 'national character', the gothic, and the poetry of Byron and Moore, while featuring characteristic work by Wilson, Lockhart, Hogg, and Scott, all four of whom appeared in the October 1817 relaunch. Yet no contemporary periodical publication, including its own predecessor, could keep pace with Blackwood's, and the essays in this Special Issue also throw a great deal of new light on the energy and insight that distinguished it across its first year and beyond. Wresting contemporary religious parody from the hands of radicals such as William Hone, Blackwood's turned it to the service of its own High Tory agenda when it excoriated its enemies in the faux-Biblical language of the notorious 'Chaldee Manuscript'. The magazine's vicious campaign against 'Cockney School' poets like Keats and Hunt is paralleled by its early assault on so-called Cockney prose writers like Coleridge, William Hazlitt, and (once again) Hunt. Its deeply uneven treatment of Byron prompted one of his longest prose works, 'Some Observations Upon an Article in Blackwood's Edinburgh Magazine', in which he responded for a second time to the harsh criticisms of 'Scotch Reviewers' even as he aligned himself with their assessment of 'Lake School' and 'Cockney School' poets. Two hundred years ago this year, Blackwood launched his magazine on two separate occasions. It was soon the most significant periodical publication of the age, and a major force not only in Scottish letters, but in the development of British and American Romanticism.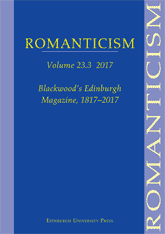 ---
Robert Morrison guest edited this Romanticism special issue as well as contributing his article, Blackwood's Byron: The Lakers, the Cockneys, and the 'throne of poetical supremacy'.
He is a Canadian author, editor, academic, and professor of English at Queen's University, Kingston, Ontario.