By Sarah Wootton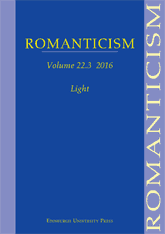 Light is recapturing the attention of contemporary writers, critics, and artists. Ann Wroe's Six Facets of Light (Cape, 2016) is a series of brilliant reflections on the subject. In 2015 Münster's Museum of Art and Culture staged an exhibition entitled 'Licht' devoted to the work of the German artist Otto Piene (1928–2014), who experimented, among other things, with what the exhibition's publicity calls 'spatial light ballets and objects, as well as light art in public spaces'. Durham City has been the biennial venue for Lumiere, the UK's largest light festival, since 2009. And on 23 November 2013, the Romantic Dialogues and Legacies research group based in the Department of English Studies at Durham University organised a symposium on light, sponsored by the University's Institute of Advanced Study. The organisers of the symposium would like to thank those who attended for their participation in and support of the event.
The essays in my guest edited issue of Romanticism, (Volume 22 Issue 3) emerge from that symposium. They address imaginative representations of light in English literature from the late eighteenth century to the present day. Of particular interest is light as a focus for Romantic and post-Romantic ambivalence: about the value of enlightenment; about the nature of beauty and truth; about the significance of artistic representation; about the process of perception. Romantic writers sought to depict the various possibilities of 'light', an idea crucial to Western literature's conceptions of meaning, revelation, and perfection. If light can serve as an emblem of absolute goodness, it can also suggest doubt and illusion, an example of which is Percy Bysshe Shelley's depiction of the 'shape all light' in The Triumph of Life. The transformative, if elusive, qualities of light in the poetry of Wordsworth, Coleridge, Byron, and Shelley are inherited and reconfigured by writers in the transition to a post-Romantic period, such as Elizabeth Barrett Browning, Emily Brontë, and John Ruskin. Literary dialogues about light remain as contentious as they are illuminating for writers in the twentieth and twenty-first centuries, including W. H. Auden, T. S. Eliot, Seamus Heaney, Geoffrey Hill, Christopher Isherwood, and Wallace Stevens.
For the Romantic writer, as for those writing in their wake, light dazzles with an intensity that can blind and distort, and it can radiate with the lustre of insight and recede into doubt. These essays share a common concern with what is hidden or latent within light as well as with the creative tensions that emerge from the interconnectedness of and transience between light and dark. Recurring themes include the light 'effects' and attendant shadows produced by artificial as opposed to 'natural' light, and by fire, sun, moon, and starlight as opposed to what Geoffrey Hill refers to as 'new-fangled light' in The Orchards of Syon, XIII. Grounded in Romantic and post-Romantic literature, the essays in this issue have multidisciplinary implications that extend to cognate areas of cultural enquiry, such as art history, philosophy, politics, and theology.
This blog is extracted from Sarah Wootton's Introduction to the issue.
(DOI: http://dx.doi.org/10.3366/rom.2016.0286)