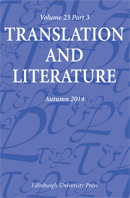 Founded in 1992, Translation and Literature is a tri-annual which is published in March, July and November of each year. It is an interdisciplinary scholarly journal focusing on English Literature in its foreign relations.
Translation and Literature publishes articles, notes and reviews on literary translation of all periods. It also presents work on other forms of commerce between writers which involve the use of the past and of the foreign, including those processes described by such terms as "imitation", "influence" and "allusion". The journal's scope extends to the activity of 'translation' between literary and non-literary forms. It embraces responses to all other literatures in the work of English writers, including reception of classical texts; historical and contemporary translation of works in modern languages; history and theory of literary translation, adaptation, and imitation.
The journal has an international Editorial Board and Editor is Stuart Gillespie, Department of English Literature, University of Glasgow. Contributors come from many disciplines including English Literature, Modern Languages, Literary Theory, Classical Studies and Translation Studies.
Translation and Literature is indexed in the Arts and Humanities bibliographies and bibliographical databases, including the Modern Language Association of America International Bibliography.
The next issue of Translation and Literature is due for publication in March 2015.
For more information on Translation and Literature and to download a sample edition, please visit our website at http://www.euppublishing.com/journal/tal