by Emma Wilson
Céline Sciamma: Portraits (2021)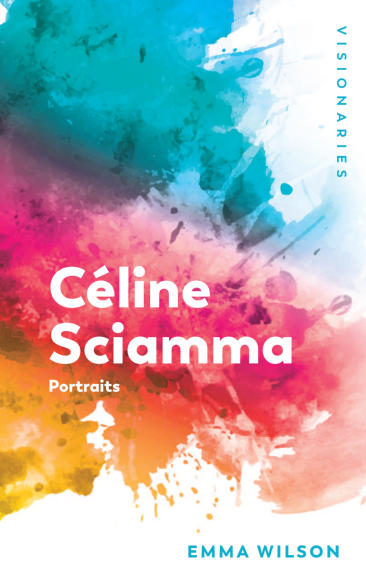 I suggested a book on Céline Sciamma for the Visionaries series after seeing her first three films, Waterlilies (2007), Tomboy (2011), and Girlhood (2014). I was moved by the sensitivity of her imaging of young women and children and interested in her position as a feminist and queer filmmaker. Before I had written the book, it became clear she was working on her fourth film, Portrait of a Lady on Fire, so I decided to delay. Portrait, released in 2019, offers a feminist vision of portraiture, in painting, in film, which came to dominate my readings of Sciamma and to provide the frame for the book I've written. Now, as Céline Sciamma: Portraits is published, she has just released a fifth film.
Petite Maman (2021)
Petite Maman was in competition in Berlin 2021 and released in France in June, shortly after the cinemas reopened following a second lockdown. It is a small film, 72 minutes, and a sketch, a watercolour, after the grandeur of Portrait. Its events happen in the woods around Cergy-Pontoise, childhood home of the director and location of her first two films, Waterlilies and Tomboy. It comes closest to Tomboy amongst her previous films in her vivid work with child actors, here twin sisters Josephine and Gabrielle Sanz, who play the protagonists Nelly and Marion. Tomboy gave itself over to children's games, football, famous people, imaginary games in the bath, and wove these free performative worlds into a more serious study of non-binary identity. Petite Maman goes in a different direction in letting an imaginary world, or make-believe premise, overtake the narrative.
The film opens in an EHPAD, the French name for a care home, where Nelly's maternal grandmother has just died. Nelly goes through the rooms saying goodbye to the residents, ending in the empty room of her grandmother. As they go home, she accompanies her mother in her loss, tenderly reaching out to her from the back seat of the car while they drive away. Nelly's mother herself later goes missing from the narrative as the small family clear and organise the grandmother's house. She is sometimes there, sitting on the floor, and then, unexplained, she is not. The film is in the quick of Nelly's experience. Things she doesn't know, the viewer doesn't either. The absence of the mother – her exit from herself and from the film in her grief – simply exists without explanation.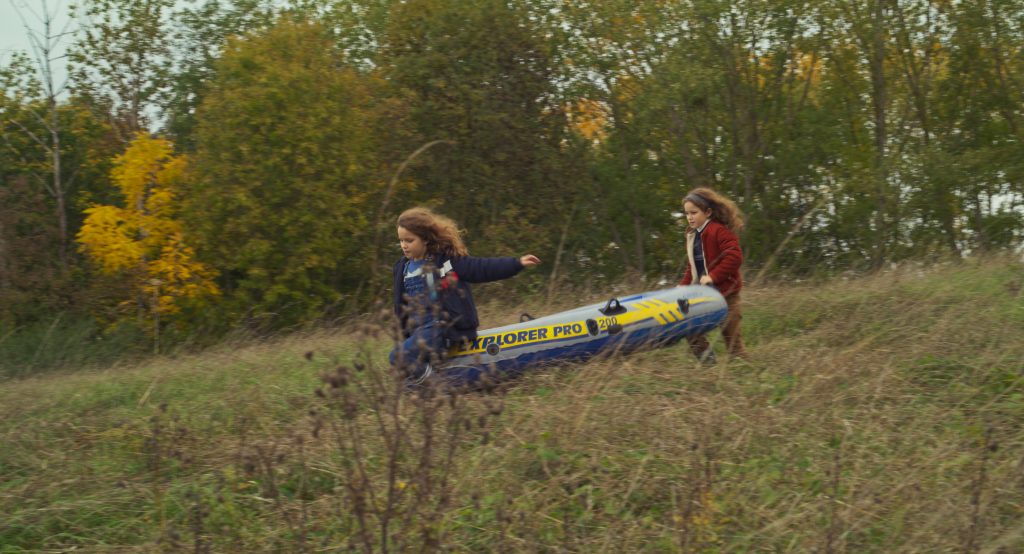 Without her mother, Nelly goes out to play in the woods around the house, in their foliage and colours, where her mother played as a child. In the dream logic of the film, this is how she finds her mother. She meets Marion, a child who is uncannily familiar, endearing, available for imaginary games. There is the easiness of children meeting and playing that Sciamma films in Tomboy. Here in Petite Maman the girls work on a treehouse in the woods, dress up, and play. In a scene at the film's heart, with music of the future by Para One, the two girls go out on the lake in Cergy, paddling in tandem, moving like one body, going to a strange monument, a white pyramid in the water.
'Her mother as a child'
Marion is Nelly's mother as a child. Sciamma figures Nelly's alliance with her mother, her protection of her in her grief, her love, in this time-slip meeting in the woods. No particular shift in era or style occurs. The woods hold this dreamed meeting as if it is lived and real. The film moves gently, Nelly's imagining of her mother as a child both a retreat in the melancholy time after a death, and an opening to awareness of her mother as once a child, as curious and vulnerable. Meeting her as a child, Nelly now fathoms her mother's feelings, and in turn her own entwined family story.
Sciamma's films have looked at children freely, critiquing the failings of parents and schools, their control and regulation. They have made dramas out of intimate and wild attachments, girl on girl, queer, trans. These have been the subject of my book Portraits. It is disarming in Petite Maman to find Sciamma reaching out to the mother, to a child's feelings about her mother, and her own origins. The attachment, the queer bond of this film, is between a child and her mother as a child. The film is sketchy in places. It lacks the fuller forms of portraiture, of looking closely at a subject, of her earlier films. It conveys a wonderment, though, about the act of looking at two actors, sisters, who are like living portraits of each other, who in their cooperative closeness embody some dream of what kinship might be. This is a kinship between women, uncannily similar, across a generational divide.
---
About the author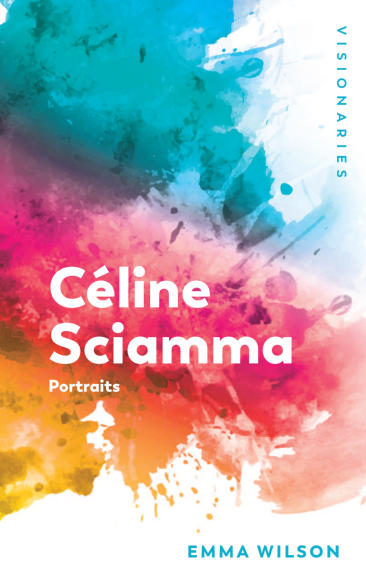 Emma Wilson is a Professor of French Literature and the Visual Arts and a fellow of Corpus Christi at the University of Cambridge. Her book Céline Sciamma: Portraits is out now and available to read freely through Open Access.