By Dr Paul Malgrati
Over the past 220 years, the Burns Supper has become the quintessential festival of Scottish culture, identity, and gastronomy. Who would have thought, back in 1801 as nine admirers of Robert Burns held a private memorial dinner at the poet's birthplace, one day Burns Night would bring together more than 9 million annual attendees all around the globe?
Sometimes criticised for their sentimental, couthy approach to Burns and Scottish identity, the Burns Supper has long remained outside academia. As declared by Hugh MacDiarmid in his famous poem, A Drunk Man Looks at the Thistle (1926):
As Kirks wi Christianity hae dune,
Burns Clubs wi Burns – wi aathing it's the same,
The core o ocht is only for the few,
Scorned by the mony, thrang wi'ts empty name.
Such a prejudice against the 'Burns Cult', drawing an elitist line between Scottish intellectuals and the popular Burns movement, persisted amongst Scottish scholars for most of the twentieth century.
It was not until the year 2009, marking Burns's 250th anniversary, that the rich, worldwide developments of the Burns Supper caught scholars' attention. On that occasion, the whisky company Famous Grouse used new technologies to record more than 3,500 Burns Suppers, across 80 countries, from Mongolia to Ghana, Ecuador to Japan, and New Guinea to Russia. What for so long had seemed a rather monotonous, monocultural ritual now appeared a colourful, global feast —Scotland's biggest literary festival. Certainly, the history of the Burns movement and the diverse, multicultural facets of the Burns Supper could be ignored no longer.
The 2010s were marked by an exponential growth of Burns reception studies. From Burns in European, North American, and world cultures to his influence on Scottish society, literature, and politics, works by scholars including Murray Pittock, Ann Rigney, Christopher Whatley, Josephine Dougal, and Arun Sood compensated for decades of academic silence about the so-called 'Burns Cult'.
In 2019, this trend culminated in the publication of Clark McGinn's The Burns Supper: A Comprehensive History—the first book-length survey of Burns Night, from its background, in eighteenth-century Scottish masonic and club culture, to its global, twenty-first century developments.[1] Crucially, McGinn's book tackles hackneyed representations of the Burns Supper as a conventional, corseted event. Describing the many shifts and adaptations of the Burns Supper's format —from traditional to iconoclastic, radical, feminist, vegetarian or multilingual events—, McGinn invites fellow scholars and literary amateurs to reconcile with the international Burns movements, embracing its motley, creative effervescence.
The present issue shares this hope of reconciliation. After more than a decade of friendly collaboration, the University of Glasgow's Centre for Robert Burns Studies (CRBS) and the Robert Burns World Federation (RBWF) have come together, turning the historic organ of the Burns movement, the Burns Chronicle, into a full-bodied, academic review supervised by Edinburgh University Press. Simultaneously, in 2020, CRBS launched a two-year research venture into the past and present of Burns Suppers. Conducted by Gerard Carruthers with support from the present author, this project led to the recent release of a giant, interactive world map of contemporary Burns Suppers, providing the broadest, most detailed database of Burns Night activities ever made, with more than 2,500 events across 148 countries.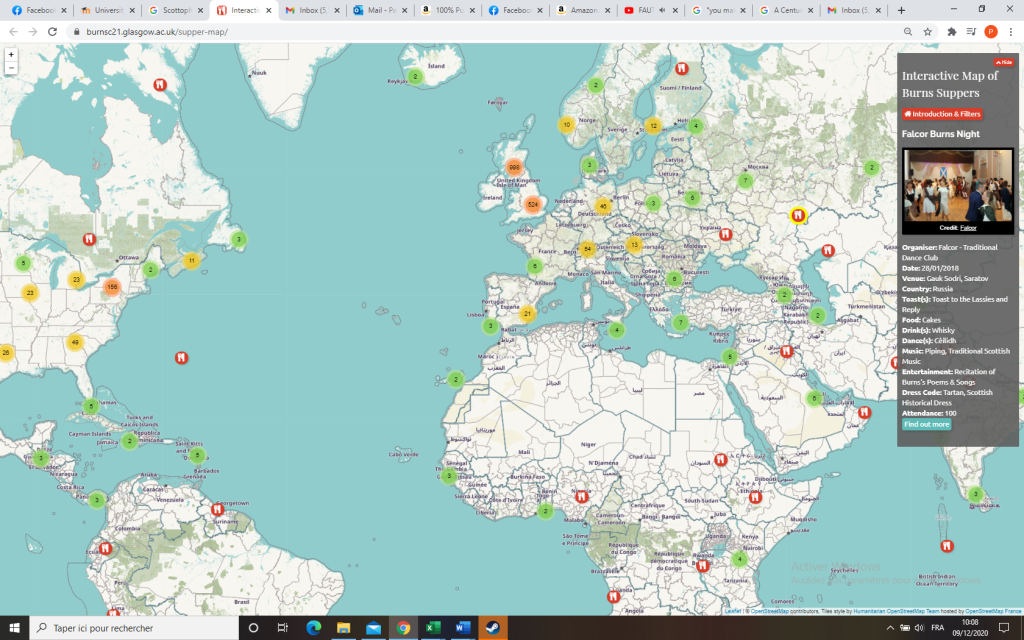 The 131st issue of the Burns Chronicle aims to second CRBS's map with a compelling trio of essays about the past and present of Burns Suppers. Building on a decade of buoyant research, the three pieces enclosed are a testament to the rich, diverse history and geographies of Burns celebrations.
The first essay features new work by Clark McGinn, adding key, gastronomic elements to his Comprehensive History of Burns Suppers. With a focus on 'The Development of the Burns Supper Menu', this mouth-watering piece charts changes in Burnsian cuisine, from the gourmand, early nineteenth-century service à la française to contemporary, multicultural dinners and takeaway 'Burns Night boxes'. This historical perspective is complemented, in our second article, by Lauren Brancaz-McCartan's analysis of twenty-first century Burns Suppers. Hailing from Université Savoie Mont Blanc, Brancaz-McCartan draws on a detailed, questionnaire-based study of the Robert Burns World Federation, revealing the profoundly cross-cultural, multilingual shift of Burns Suppers in recent years, away from traditional pageantry. Finally, in the third article, Brancaz-McCartan's findings are supported by the present author's quantitative analysis of contemporary Burns Suppers. This unprecedented study, based on CRBS's map and database, provides a typology of contemporary Burns Suppers, highlighting their both geographic and ritualistic diversity —from highly formal types of events to more casual gatherings.
Overall, it is hoped these articles prompt further research about Burns Suppers. Despite recent progress, many questions remain unanswered. There is currently no sociological survey of Burns Night in Scotland, and the reasons behind the recent, global growth of Burns Suppers, outside the English-speaking world, are yet to receive detailed attention. The potential of the field is huge: with Burns Suppers featuring in most world countries, across variegated socio-cultural spheres, they provide a unique vantage point to study the reception, construction, and adaptations of Scottish culture. As the international Burns movement recovers from the COVID-19 pandemic, a plague that blighted the more fleshy, convivial, Burnsian side of our shared humanity, we encourage more scholars —and all Burns lovers—to join us at the supper table.
---
[1] Clark McGinn, The Burns Supper: A Comprehensive History (Edinburgh: Luath, 2019).
---
The Burns Chronicle is a dedicated platform for the rich, international research on Robert Burns (1759-96) which is happening in the 21st century. Find out how to subscribe, or recommend to your library.