By Niall Nance-Carroll
Young people are a coveted demographic in politics, and they are increasingly shaping both the message and the movement of progressives. Far from being the "youth wing" of a larger adult-led activist movement (indeed, one of the common refrains in discussion of youth activism is the suspicion that young people are taking their marching orders from sinister adults), young people are also distinguishing themselves as leaders.
Chris James's recent profile of 9 Black Lives Matter activists for CNN includes interviews with Aalayah Eastmond (19), Jackie James (17), Nupol Kiazolu (20), and Sofia Ongele (20), exploring their calls to activism and the methods that they have used. Kiazolu was among the 87 people arrested for non-violently protesting on the lawn of attorney general Daniel Cameron during the demonstrations after Breonna Taylor was killed. Kiazolu began her activism early; she recalls her protest in sixth grade after Trayvon Martin was murdered, as well as researching her right to protest at school.
Eastmond reflects on the importance of messaging, including the choice to avoid the term "gun control" and the choice to use "gun violence prevention," because "Who doesn't want to prevent gun violence?" and to focus on the intersection of multiple issues rather than on a narrow single-issue activism. Her speech at March for Our Lives draws a direct connection between the gun violence that killed her uncle in Brooklyn, New York and the incident that nearly killed her in Parkland, Florida—describing it as "the same violence." This rhetorical move, a consistent focus on gun violence (the actions) rather than on guns (the objects), preempts a common argument that "guns don't kill people, people kill people." Explaining the broad scope of her project, Eastmond notes that mass shootings are "not even 2% percent of gun violence." Like many other young activists, she displays mastery of the interview format, promoting a specific message while maintaining an authentic and spontaneous delivery. The range of activism, from speaking to other young people to meeting with politicians, giving speeches at rallies, and testifying before Congress, reflects youth activists' intent to participate in the formal political process and build political communities. Parkland survivors have run campaigns encouraging young people to vote in 2018 and 2020 elections, and to have Rep. Marjorie Taylor Greene removed from committees on grounds of her espousal of conspiracy theories that asserted that the shooting at Marjorie Stoneman Douglas was only staged.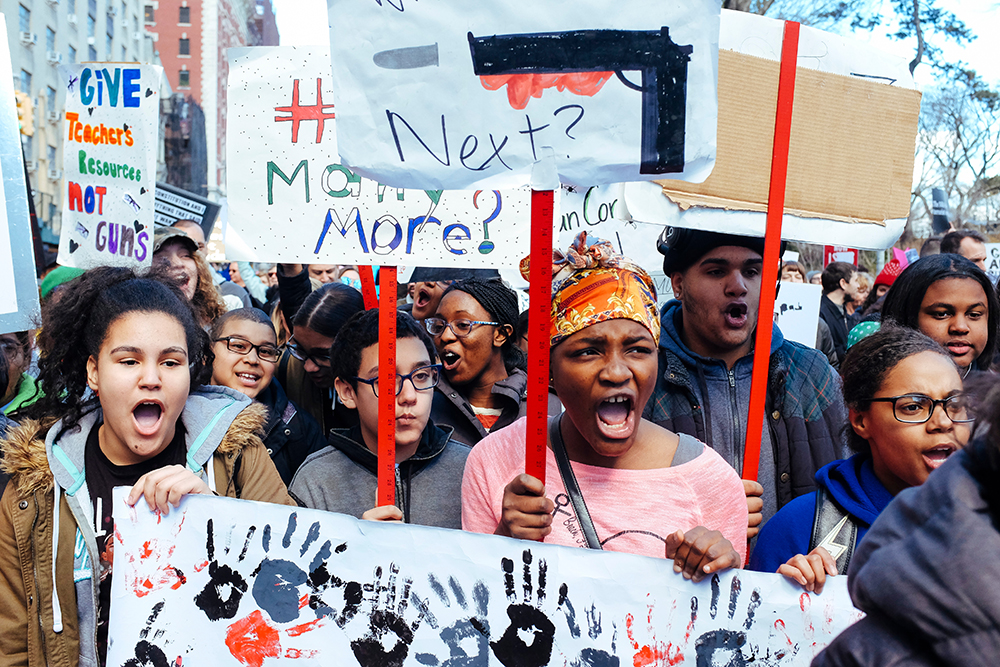 As Jackie James explains, "people are finally seeing that there is no age restriction to talking about politics." Indeed, while the influencer/activist role can attract derision (especially from those who view influencers as a form of 'lesser' celebrity or blame them for the broader ills of social media use), the reach of influencers cannot be overstated. With millions of fans, many of whom are not yet politically active, young influencers can help normalize political discussion and activism. Describing her annoyance at the lack of social justice content on TikTok, James reports deciding that "if you don't see it, then make it." As young Black women in predominantly white cities, both James and Ongele find online connections that allow them to reach a broader community. Ongele explains that "TikTok creates a completely new generation of decentralized movements." As James notes, "with Instagram, if you post something, your followers are going to see it. But with TikTok, you can literally reach anybody and everybody just by posting." "Adults used to think young folks would take pictures on social media, just use it to look cute," adds Kiazolu, "but in actuality young organizers like myself are using social media to galvanize millions of people around the world to get involved in this movement." From the much-storied political turn of Teen Vogue in 2016 to record youth turnout that helped flip Georgia in the 2020 election to the TikTok activism in 2021, youth political engagement has moved into the mainstream. Profiles of young people engaged in activism abound, highlighting the work of Greta Thunberg, Malala Yousafzai, and the survivors of the Parkland shooting. Texts aimed at young people now assume they are already familiar with those well-known activists, and focus on bringing new voices to the conversation—with figures such as Teen Vogues "21 under 21". A robust literature of activism has emerged, authored by young people themselves and including speeches, guides, and TikToks aimed at other young people but also discourse aimed at adults, such as interviews and testimony before national and international organizations.
In my article Children and Young People as Activist Authors in Vol. 14 Issue 1 of International Research in Children's Literature, I explore the rhetorical strategies of young people's advocacy: appeals focused on universal rights, on specific protections for young people, and on the moral duties of adults, as well as complex or hybrid appeals that combine these forms.