By Dr Ingrid E. Mida
In April 2018, I was invited by artist Sarah Casey, as part of a collaborative project partially funded by the British Council and Arts Council England, to don my dress detective hat and study the clothing of John Ruskin, the nineteenth century art critic, author, and polymath. It was a shared affinity for Ruskin and drawing that had brought Sarah and I together for this project. Sarah was to exhibit her drawings at Brantwood the following year for the 2019 bicentenary of Ruskin's birth and I was to write an essay about his clothing for her exhibition catalogue. What could the clothing tell me about Ruskin?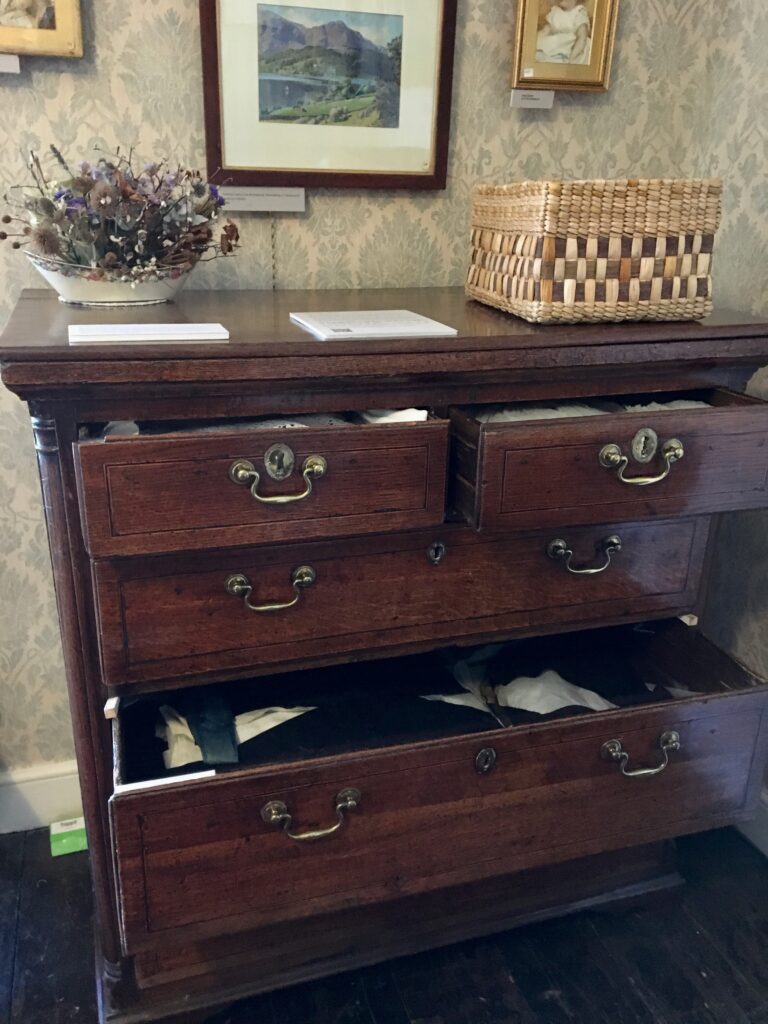 As a dress historian and curator, I had often quoted Ruskin in my lectures. Like Ruskin, I believed that drawing enabled seeing, since the work of drawing not only slowed down the act of looking but facilitated mindful presence. Drawing is not an obvious choice of research method for a dress historian, even though at one time it was not uncommon to do so. My drawings are not artworks, but instead function as documentation of my work to uncover the embodied history and narratives of an object, something that I discussed with Sarah Casey and Gerry Davies in an interview for their book Drawing Investigations.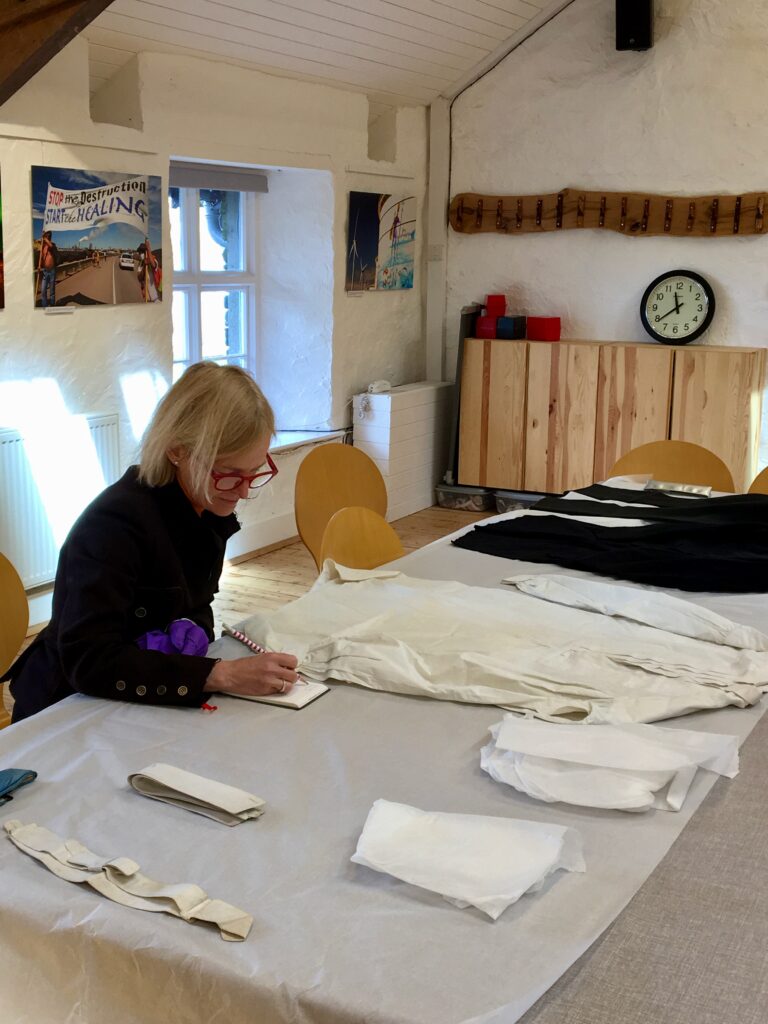 Drawing, for me, is a way to slow down and better see whatever it is that I am studying – whether that is an artwork or an artefact. I advocate for drawing as part of a research strategy that I have described as the slow approach to seeing in both my books The Dress Detective as well as in Reading Fashion in Art.
If there ever was an occasion where the slow approach to seeing was wanted, it was in anticipation of my visit to Brantwood. It is not often that one gets an opportunity to study the clothing of such a well-known figure, and as I mulled over the gravity of the occasion, my mind raced, and my hands shook as I gently extricated Ruskin's Christening gown and formal clothing from the bureau drawers. During my examination, I made careful notes and several small drawings, but it seemed that the clock ticked too quickly that day. It was fortunate that Sarah had embraced the careful and systematic process advocated in The Dress Detective during her visits to draw the clothing. Our ongoing discussions became integral to the success of this project and played a significant role in revealing new knowledge that has now become part of the record.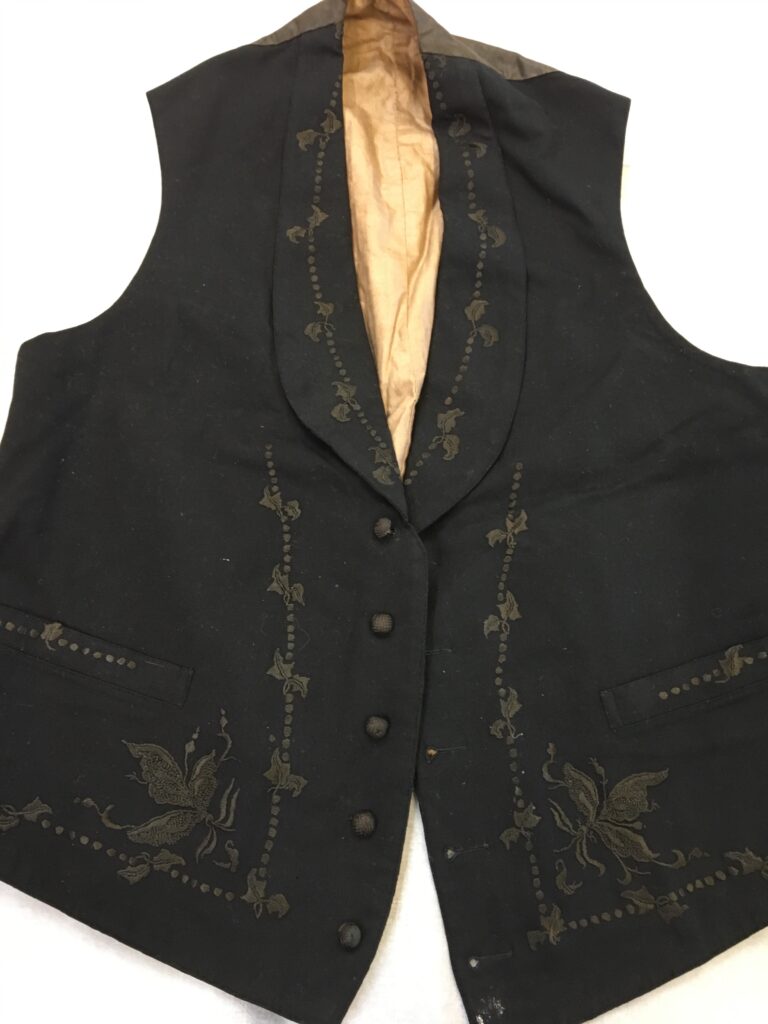 For me, drawing is a way of thinking. My small drawings function as records of my discovery, while Sarah's evocative and fragile life-sized works speak to larger narratives of time, memory and presence. Our upcoming article 'Drawing as a Creative Approach to Researching Extant Garments: A Case Study involving John Ruskin's Clothing' for Costume reveals what was learned through this collaboration between artist and dress detective.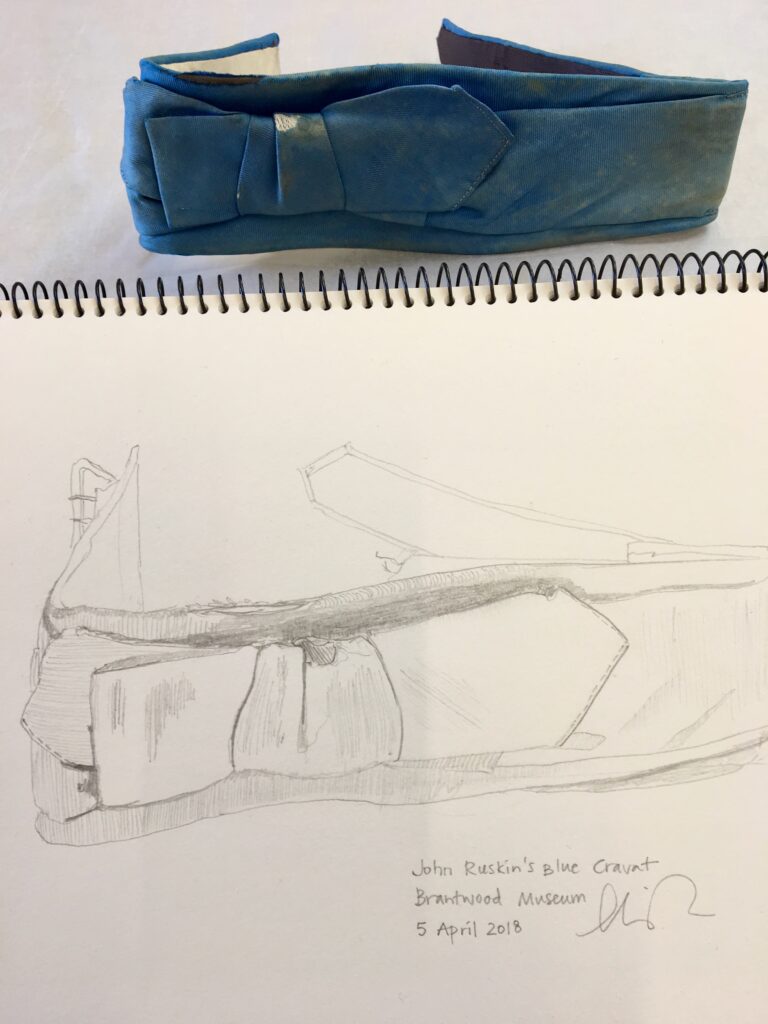 ---
Ingrid Mida is an art and dress historian with a PhD in Art History and Visual Culture from York University in Toronto. She is the lead author of The Dress Detective and her book Reading Fashion in Art will be released by Bloomsbury Visual Arts on September 17, 2020.
---
Costume is the journal of The Costume Society, presenting current research into historic and contemporary dress. The journal publishes articles from a broad chronological period and with a worldwide remit, maintaining a balance between practice and theory with a focus on the social significance of dress. Find out more and how to subscribe, or recommend to your library.