In the summer of 2015, Kelly Reichardt agreed to discuss career and production details with E. Dawn Hall and Allison Adams, in an effort to inform ReFocus: The Films of Kelly Reichardt and provide insight into her latest film.
Phone interview on the campus of Western Kentucky University, June 2015
Interviewers: E. Dawn Hall and Allison Adams
Dawn Hall: In River of Grass, was the character of Ryder loosely based on your father?
Kelly Reichardt: No, Ryder is not anything like my dad; the connections were very superficial. The film was shot in a neighborhood where I've lived for some years, and my dad was a crime scene detective, but that's about the extent of the autobiography bits of it.
DH: Do any other people that you know pop up as characters in your films or in your writing?
KR: No. Part of what's great about making a film is stepping into a world that isn't your own. It's great to get away from yourself and learn about some scene that isn't quite your own. It doesn't mean it isn't relatable, but it's outside of what's familiar.
DH: In all of your films, is there a purposeful emphasis on environmentalism that culminated in Night Moves, or did that emphasis just evolve? Were issues surrounding the environment in your consciousness?
KR: With Night Moves, Jon Raymond wanted to write a script about a group of fundamentalists and instead of looking to the right, he wrote about these young lefty radicals—people with a more relatable and, to our eyes, a more justified agenda. Environmentalism is at the core of the character's concerns and the motivating factor (at least on some level) for blowing up this dam. So issues of the environment are front and center because these characters are living on an organic farm and attending meetings about political activism—these are the issues they are focused on.
DH: Speaking of Night Moves, when I was at the theater there was an audible reaction to the ending. When it goes black the entire theater just either sighs, or they gasp. Did you write it that way, or did it just happen that way in the editing room?
KR: That's how it was scripted.
DH: In the chapter on Night Moves, I suggest that the ending of Night Moves is the most hopeless of all the films. Mainly, because Josh is staring at that job application and he's going into a world that he's been trying to leave.
KR: Right. Well, my dear colleague Peter Hutton, who we lost this month, and who is someone I'm really going to miss talking about films with—who I miss terribly in general. I just found an old email he had written me about the films all being about futility. In Meek's it's left to the audience to decide if there is a good ending to come or a bad ending, and River of Grass is more open too. Night Moves isn't as open for interpretation.
DH: It seems in all of your films, including the shorts, there is an underlying political commentary. Is it a conscious decision to insert politics while you are writing or adapting scripts, or is it just organic to the story?
KR: Generally speaking, things don't just happen. Conceiving a story, writing a script and making a film—these are all long-drawn-out processes. I think what drew me to the Jon Raymond stories is his ability to write politically without writing politically. There's no message in a Raymond story, no clear ideological path. It's all murky territory, and murky is more of a challenge than a straight shot to something. Ultimately they are all character films.
AA: If possible I'd like to focus on script and adaptation writing for a moment. You have so many silences in your films and you work with so much internal character development, so what do your scripts look like? How do you incorporate silences?
KR: We're often pulling dialogue out as we go. It's a visual medium so a lot of the process is figuring out how it can happen through camera placement or through a cut, a gesture or pause. Sometimes an actor does something in a rehearsal right before we shoot that reveals a moment in a different way. We work from a script and I come with a plan because we move very quickly and our budgets don't allow us a lot of time. But the film has a life of its own and opportunities reveal themselves as you go.
DH: As you've said before, filming on a limited budget is hard. You have to be creative and inventive. Does it wear you down?
KR: We have pushed ourselves to, possibly, the brink. The remote landscapes are very difficult. Shooting outside in the winter is difficult.
DH: I know we have to wrap up, so one last question. What filmmakers do you make an effort to follow? Is there anything that has caught your eye, or trends you are moving towards?
KR: I've been revisiting Peter Hutton's films because I miss him. He made films without a lot of movement and without any sound—he called himself the "rear guard." His films keep reminding us about how to really look and use your eyes—the difference in letting a viewer see something as opposed to showing it to them.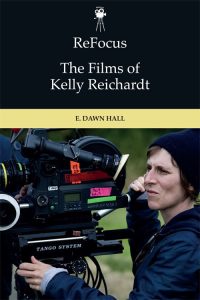 ---
E. Dawn Hall is associate professor in the School of University Studies at Western Kentucky University.