Britain has long had a contradictory relationship to movie stardom, as two articles from the fan magazine Picturegoer, both by the same writer, both from 1943, eloquently demonstrate. In October, Lionel Collier had asked hopefully 'are we making our own stars at last?', delighting in the fact that 'real strides' were being made in building up and professionally promoting native film talent in Britain so that it could feasibly rival Hollywood's. But just a few months before, Collier had sung a very different tune. 'Must we have stars?… Well, do we really want to follow the American star system? Commercially, no doubt, it has been a great success. It is amazing what tripe you can put an accepted star in and get away with it.' This paradoxical simultaneous desire and contempt for stardom arguably still lingers on in contemporary British attitudes to stardom. We are delighted when UK actors win Oscars but talk about them triumphing precisely because they are great actors rather than anything so vulgar as mere run-of-the-mill (Hollywood) film stars. And this kind of 'snob appeal' reverberates in particular ways around British femininity and film stardom, as I explore in my book Female Stars of British Cinema: The Women in Question.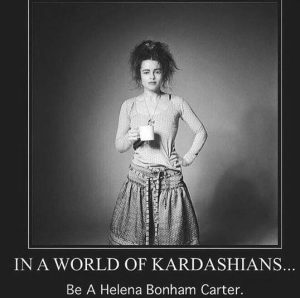 For example, one of the most popular variants of the 'In a world of Kardashians, be a …' meme that has continually circulated online over the past few years presents the quirky British star Helena Bonham Carter as the diametric opposite of the devalued reality TV and Internet celebrity represented by Kim Kardashian and her family. Some of the entrenched privileges around film stardom as opposed to other kinds of celebrity are in operation around this elevation of Bonham Carter, but so too are ideas of class and nationality, with the supposedly more admirable, authentic and independent-minded stardom of Bonham Carter imbricated with her upper-class Englishness. If this kind of 'classiness' is often seen as the 'unique selling point' of the British actress, then it is a highly problematic way of carving out a niche in the celebrity universe, depending as it does on the derogation of other kinds of femininity by comparison.
This is the territory explored by my book, navigated by means of detailed case studies of a number of totemic stars whose careers cover the period from the 1940s to the 2010s. It begins with the post-war stardoms of vampish Gainsborough girl Jean Kent and self-confessed 'blonde glamour machine' Diana Dors, moves onto the new types of female stardom represented by sixties discoveries Rita Tushingham and Glenda Jackson, and then investigates the contrasting fortunes of two young female stars, Helena Bonham Carter and Emily Lloyd, during the British film renaissance of the eighties and nineties. A chapter on Judi Dench explores the post-millennial rise of the older female film star, while the book's concluding chapter specifically addresses the problem of the enduring intractable whiteness of British female film stardom – still in thrall to the quasi-imperial nostalgic ideal of the 'English Rose' – and how this continues to create an exclusionary culture around who is and isn't considered a worthy candidate for stardom, although thankfully the success of Naomie Harris, Thandie Newton and other BAME British actors suggests a change in attitude has at least begun to take effect.
It was massively enjoyable to spend time researching the on and off screen personae of these amazing women, marvelling at how well they seemed to deal with both the brickbats and the bouquets of their careers, how they managed the offers from Hollywood, and how they negotiated the problems of ageing and no longer being flavour of the month. My main editorial problem was in restricting myself to just seven main case studies from a 75-year period when there were so many other actors from all eras of British film history equally worthy of sustained attention: Ivy Close, the Teeside beauty queen who set up in 1914 one of the first production companies run by a star anywhere in the world; the lithe, wide-eyed 'dancing divinity' Jessie Matthews who almost partnered Fred Astaire in the 1930s; the intelligent and self-possessed English Rose-with-thorns Sylvia Syms, whose cool beauty enlivened numerous British productions of the 1950s and 1960s before she made the customary move into character roles in her later career; the 'Battersea Bardot' Carol White whose film and television performances were so naturalistic that she seems never to have got the credit she was due as a brilliant actor; and the list goes on.
The plethora of potential case studies only pointed to the fact that this was an area of remarkable vitality in British film culture. In her later years as a doyenne of British light entertainment, Diana Dors was described by pop impresario Simon Napier-Bell as 'Britannia herself', and many female stars have played similarly symbolic roles, seen to embody and promote different aspects of national character or national identity. This has often made them highly emotive figures whose success has been intimately entangled with Britain's image of itself. All the more reason, then, to scrutinise and study closely these 'women in question', whose stardom can tell us so much about twentieth and twenty-first century British culture and history, and changing models of femininity and celebrity.
---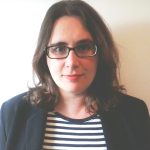 Melanie Williams is Lecturer in Film Studies at the University of East Anglia. She has published work on British cinema in many journals and edited collections and is the author of Prisoners of Gender: Women in the Films of J. Lee Thompson and the co-editor of British Women's Cinema, Ealing Revisited and Mamma Mia! The Movie: Exploring a Cultural Phenomenon.