By Valerie Cumming and Alexandra Kim
The year 2017 marks the fiftieth anniversary of Costume as a journal and we are celebrating this milestone in a number of different ways. The most obvious is that Costume's cover design has been refreshed as a major anniversary deserves a 'New Look', and this has been master-minded in collaboration with the Costume Society's new publisher, Edinburgh University Press (EUP).
From a slender stapled 'Vol. 1 No. 1' in 1967 printed for the Society, Costume has passed through various printing and publishing changes to find a home with an established university press; an upward trajectory with which we can all feel satisfied. The discipline of costume/dress/fashion — the words have shifted and changed their meaning across the fifty years — has been enriched by the hundreds of articles, listings and reviews published in Costume. This encyclopaedic endeavour owes much to its first editor, now editor emeritus, Ann Saunders whose combination of scholarship and ability to talent-spot both authors and collaborators set increasingly high standards for the journal. When she retired in 2009, Penelope Byrde Ruddock and Verity Wilson steered the journal into two issues a year and several themed and guest-edited issues.
The 50th Anniversary Issue
This issue contains five articles which range in date from the early sixteenth century up to the last quarter of the last century. The content provides a rich mixture of work which examines clothing, the techniques of its production, surviving examples and how all these groups are recorded not just in the United Kingdom but throughout the world. Jemma Field's article on a previously unpublished inventory of the wardrobe of James I and VI's queen, Anna of Denmark, is accompanied online by a full transcription of the inventory. We are delighted to use this method of providing full information for scholars and hope that it leads to further proposals for articles accompanied by supplementary material that can be published online. David Wilcox's article on the Barrock Estate Finds complements his earlier article on late seventeenth-century male clothing in Costume, 50:2 (2016) and offers detailed patterns alongside analysis of these finds. Alison Larkin is an experienced embroiderer who has investigated and discussed the embroidery skills of Elizabeth Cook, wife of the noted explorer Captain James Cook. Charlotte Nicklas provides an intriguing article on hats in late nineteenth- and early twentieth-century literature, a theme that links particularly well to the Costume Society's 2017 conference on 'Writing Fashion'. The fifth paper is provided by the distinguished Australian dress historian and member of the journal's editorial panel, Margaret Maynard; this considers air travel, fashion and photography in the inter-war and immediate post-war period in Australia.
Here's to the next phase
The journal is the work of many people alongside its authors and editors, and we thank our hard-working peer reviewers, those who contribute book reviews and listings of articles in other journals and of displays and exhibitions of dress for their support. We are delighted that Linda Fisher is continuing to weave her magic as a copy editor and our new colleagues at EUP are efficient, helpful and provide the continuity which all successful journals require. It is our hope that the next phase of Costume's history is as successful as previous ones and that contributors, new and old, will continue to offer us their articles.
---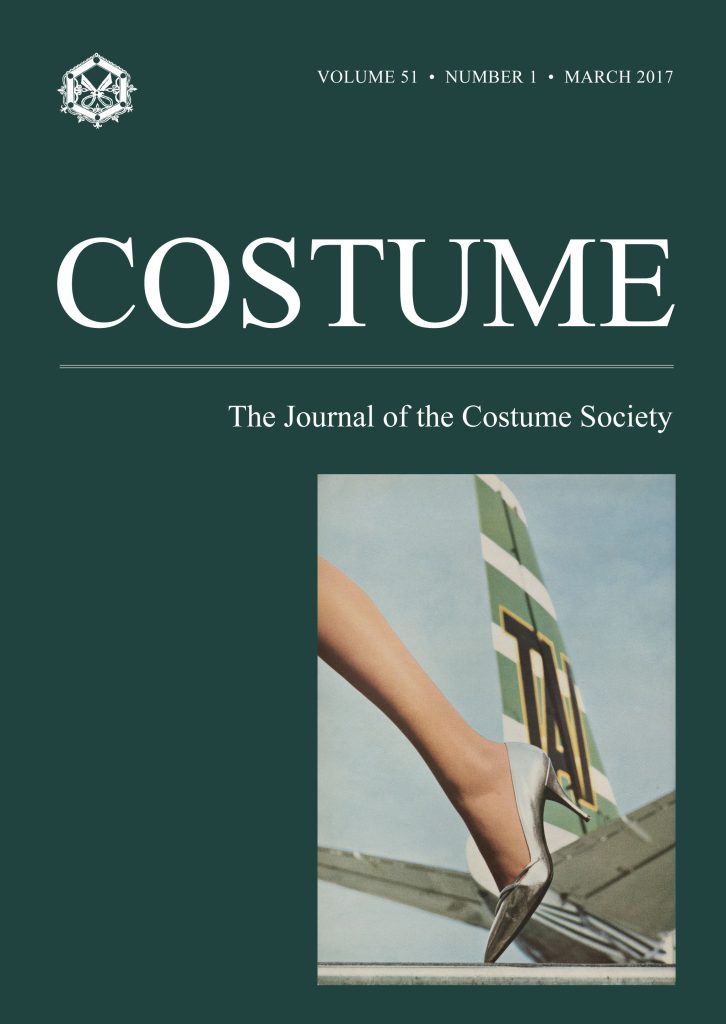 Costume presents current research into historic and contemporary dress, and is the scholarly, peer-reviewed biannual journal of the Costume Society.
>Browse the full issue – Volume 51, Issue 1, March, 2017