"There are Muslims in China? I didn't know that." Yes, indeed, there are—possibly as many as 25-30 million souls—and they constitute a fascinating segment of two vital world entities, "China" and "Islam." Almost half of them speak Chinese as their native language, belong in the local Chinese culture of their native places, and may be considered "people of two cultures," like German Jews or Canadian Buddhists. In this book, we call them Sino-Muslims—they are usually called Hui in Chinese—to indicate their bicultural heritage. The other Muslims in China, not considered in this volume, speak Turkic, Persian, or Mongolian languages and are not generally participants in Chinese culture, though they are certainly citizens of China. Among these, the Uyghurs of Xinjiang are the most numerous and best known.
Because of the difficult languages involved and the vast physical and cultural distance between China and the Muslim heartlands in the Middle East, most Islamicists do not include China when they think about Islam. Nor do most Sinologists consider the Sino-Muslims when they think about China. That is, scholars tend to see the Sino-Muslims as occupying marginal positions in both of their cultural worlds, but that does not make them irrelevant or inconsequential. To the contrary, their histories and modern evolutions can serve to illustrate the rigidities and flexibilities, the range of possibilities within both "China" and "Islam." By examining the edges, places in which presumed cultural packages—Chineseness, Islamic religion—are not singular and exclusive, we may learn surprising new things about both. We thus wrote this book to describe both sides of the Sino-Muslims' culture, both the Chinese and the Islamic, hoping that readers interested in one might take into account direct connections with the other. In Dr. Papas's words, we welcome you to "a world of discussions, where the Prophet speaks Chinese while ideograms interpret concepts imported from the Middle East."
The contributors to this new EUP volume, Islamic Thought in China, belong to a small but thoroughly international cohort. The eight of us come from six countries—China, France, Italy, Japan, Poland, and the USA—and connect to a worldwide network of scholars. We share Chinese and English, but we were educated in diverse academic cultures, with their different questions and methods. Writers have been engaged with this field for well over a century, and its topics range from ancient inscriptions in Chinese, Arabic, and Persian to the production and consumption of halal Chinese food. For this book, we have chosen intellectual history, a subject that has generated consistent scholarly enthusiasm in both China and the Islamic world. We invite readers interested in China, in Islam, and in cultural frontiers to join us in thinking about this conjunction of two great world civilizations.
…………………………………………………………………………………….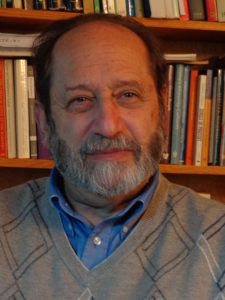 Jonathan Lipman taught East Asian history at Mount Holyoke College (Massachusetts, USA) from 1977 to 2015. His publications focus on Islam and Muslims in China, including Familiar Strangers: A History of Muslims in Northwest China (1997).
Related links