Established over 2 years ago, Kudos provides an award-winning service to over 75,000 researchers worldwide, helping to increase the reach and impact of their publications.
Managing outreach in one platform allows you to measure the impact your efforts have in real time, in terms of increased readership, discussion and citations.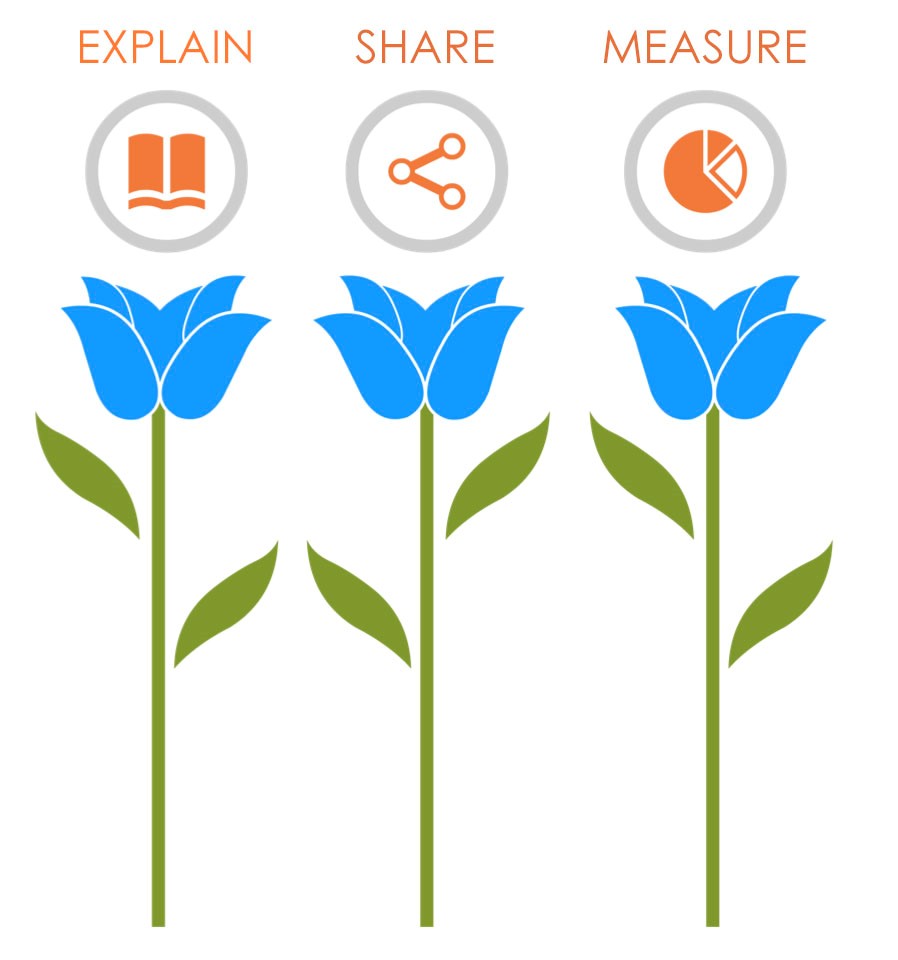 Help readers understand your work – at first glance
First impressions count, and with over 2 million new publications every year, it is important that your work stands out to readers, and can be readily understood.
Kudos allows you to explain to readers in simple terms what your publication is about and why it's important.
Imagine you are viewing this publication's page for the first time. Look at the title – do you fully understand what this publication is about?
What about non-human readers such as search engines – are these the kind of keywords that people will be using?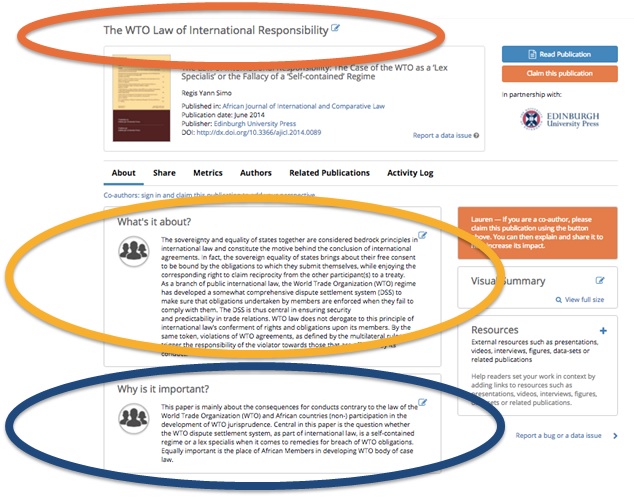 Explaining in simple terms what exactly a publication is about and why it is important, from your point of view as the author, helps more people find your work. It helps those in the field to more quickly understand whether your work is likely to be useful to them, and gives those outside the field a better chance of understanding your work and potentially applying it in their own context.
Furthermore, you can add a more personal "perspective", perhaps touching on the motives behind your work, or what you personally achieved or discovered during the project.
Let people know your work is there, waiting to be read!
Kudos provides trackable links that you can use when you share your publications – whether you do that by email, social media, academic networks, blogs, institutional websites – or even in conference presentations, reading lists or handouts.
We encourage you to use some of these approaches to reach out to wider audiences, leading them to your work. You can then go into your Kudos dashboard and watch your readership grow!
The range of metrics that Kudos brings together in one place shows you which channels are performing best; you can then make decisions about where is best to share and talk about your work.

Conclusion – does Kudos help your work stand out?
In short, yes!
During the Kudos pilot, publications that were explained and shared in Kudos had 19% higher daily downloads than those that did not.
The graph below (which is available to authors in their Kudos account) captures the impact made, when an author explains or shares their work.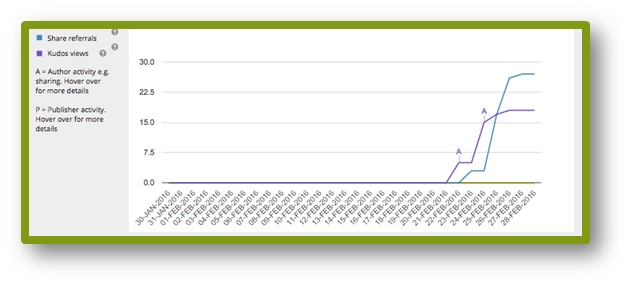 Try it for yourself
 With as little as 5 minutes, you can make your publication stand out.
Find and claim a publication you've authored – you also have
the option to enter your ORCID ID to locate your publications
Explain your publication in plain language; what is it about? Why is it important?
Add related resources such as videos and press releases to further support you work
Using your unique, trackable links generated by Kudos, you can share your work with a much wider audience via online channels such as Twitter, Facebook and Linkedin
Meanwhile, Kudos will also share your work – for example, ensuring your plain language explanations are indexed by Google, or linked from sites like Europe PubMedCentral
And finally, Edinburgh University Press partners with Kudos to acknowledge, amplify, learn from and support your efforts to increase the visibility of your work
Get started at www.growkudos.com!