The second issue of CounterText, 'Toward Countertextuality', is out later this month.
CounterText was launched this year with the stated aim of exploring 'the charged evolutions and radical transformations of the literary today'. It asks questions about perceptions of a 'post-literary domain', when this is understood as 'allow[ing] for vital and challenging migrations and mutations of the literary'. The first issue, 'Postcolonial Springs', looked at political ramifications to this. If it really is the case that 'the literary is elsewhere', then it would be important to examine 'quite how differently situated, how other, and yet how relatable that elsewhere is'. This was why that issue focused on how the aftermath of events surrounding the so-called Arab Spring in 2011 finds reflections and refractions in literary representation and in the theory and practice of postcolonial critique.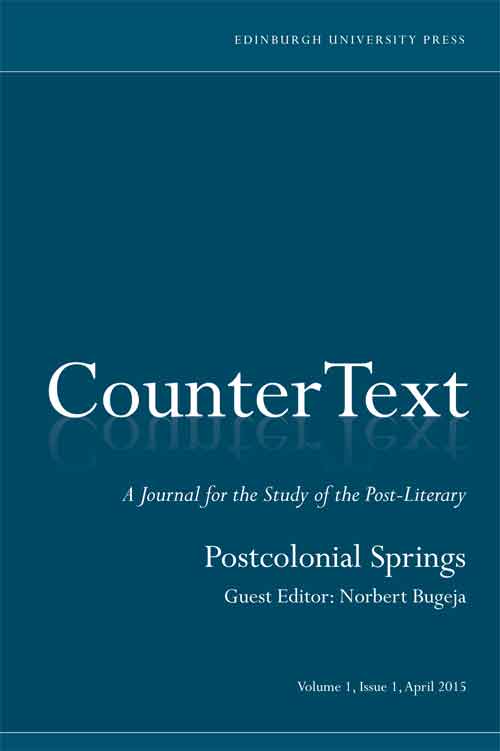 Essays by a distinguished line up of contributors – Timothy Brennan, Benita Parry, Caroline Rooney, Iain Chambers, Gil Anidjar, Ziad Elmarsafy, and Norbert Bugeja, the guest editor –demonstrated quite how co-implicated the political, the countertextual, and the 'othering' of the literary are.
No countertextuality, then, without politics. But equally, no countertextuality without … well, what? The difficulties of completing that sentence – the usual suspects, for instance 'aesthetics', 'ethics', 'hermeneutics', are all somehow disqualifiable yet all somehow more crucial than ever if ideas on the countertextual and the post-literary have any traction – are tricksy indeed …
… which is why it seemed appropriate (if not a little foolhardy) to go with that title, 'Toward Countertextuality', in the second issue. Essays by Benjamin Noys, Laurent Milesi, Stefan Herbrechter, and the journal's general editors, Ivan Callus and James Corby offer responses to how the countertextual might be differently perceived and approached. But, not least, the issue carries an interview with Man Booker finalist Tom McCarthy, whose novel Satin Island, published earlier this year, could well be perceived as performing a countertextual take on the post-literary. Whether that happens questioningly or (re)affirmatively in regard to the literary is very much for the reader to decide. The decision, however, will certainly want to factor in the very intriguing thoughts on literature in our time (and, indeed, quite simply, on our time) that McCarthy expands upon in the interview. It looks set to be a highlight of the journal's first volume, and is bound to be much discussed.
A Table of Contents notification to the second issue will be sent out very soon to subscribers to the journal and to everyone signed up for the notification service. CounterText, then, is keeping its provocations and instigations going (though it also has interesting takes on circumspection across these two next issues). This almost calls for a trailer: the very topic of the coming blog post (watch this space …)
You can read the first issue: 'Postcolonial Springs' free online at www.euppublishing.com/count.
---
Ivan Callus is Associate Professor in the Department of English at the University of
Malta, where he teaches courses in contemporary narrative and literary theory. He is
the founding co-editor of CounterText and co-editor of a number of critical collections,
among them Discipline and Practice: The (Ir)Resistibility of Theory (Bucknell University
Press, 2004), Posthumanist Shakespeares (Palgrave, 2012) and Style in Theory: Between
Literature and Philosophy (Bloomsbury, 2013). He is the author of numerous papers
on contemporary literature, posthumanism, and poststructuralist theory. Critical
Posthumanism, co-written with Stefan Herbrechter, is soon to appear with Brill. He
is currently completing a manuscript on poetry and code.
James Corby is a Senior Lecturer and Head of the Department of English at the
University of Malta, where he lectures on literary theory, poetry, and philosophy.
He is the founding co-editor of CounterText and a founding member of the Futures
of Literature Network. He has published on literature and philosophy, including
articles on romanticism, modernism, phenomenology, performance, politics, and
contemporary American literature. He co-edited Style in Theory: Between Literature and
Philosophy (Bloomsbury, 2013) with Ivan Callus and Gloria Lauri-Lucente.