Before his tragic death by self-destructive alcoholism at age 41, Brendan Behan was a celebrated Irish poet, short story writer, novelist, and playwright who wrote in both English and Irish.
Fifty years since his death, a special issue of Irish University Review revisits the story of what happened to Brendan Behan when he devoted himself to his writing and became an international celebrity. John Brannigan, editor of the journal, highlights that the issue is an essential means to recognising the legacies of what Behan did write rather than the wistful hopes of what he might have become.
Photo stills taken from the Lyric Theatre production of Brendan at the Chelsea written by Janet Behan (Brendan Behan's niece), and directed by and starring Adrian Dunbar. It is published for the first time in Irish University Review. Volume 44, Page 6-58. For more information on Northern Ireland's only full-time producing theatre visit www.lyrictheatre.co.uk

John Brannigan opens the issue explaining that being 'a bit of a writer' (as Behan wrote in his first article for the Irish Press on August 2nd 1951) in mid-century Dublin was a "fanciful, decadent notion, especially for someone of Behan's class….a man 'rising above his station'". He describes how Behan held liberal, cosmopolitan views and tastes, but wrote of working class life and "about the small victories that could be won over the authorities, about life as a dissident, and in prison".
The special issue includes contributions from a host of Irish writers and academics, including Andrew McNeillie (founding editor of the magazine Archipelago and who runs the Clutag Press), Janet Behan (Brendan Behan's niece who works in the theatre in one capacity or another – acting, singing, writing, producing, and directing) and Frank McGuiness (a playwright, poet, and novelist as well as Professor of Creative Writing at University College Dublin).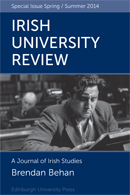 Irish University Review publishes in May and November each year and is affiliated to the International Association for the Study of Irish Literatures (IASIL). This special issue is available as a single issue or as part of a subscription.
>>View the full issue on Brendan Behan