We are pleased to announce a new series in our continuing partnership with Studies in Photography. The Scottish Photographic Artists series will launch on April 30, 2023 with the publication of In Search of the Blue Flower: Alexander Hamilton and the Art of Cyanotype. The series of photographic books will showcase the work of contemporary Scottish artist-photographers and celebrate the tradition of Scottish photography. Series editor Alexander Hamilton has made it his life's work to promote photography as an artistic practice. He is co-editor of the journal Studies in Photography (est.1983) and his work has been exhibited internationally in New York, France and Poland, as well as in major public arts projects in Scotland.
'The Scottish Photographic Artists Series aims to document significant contributions to photography, as well as inspire others to carry the photography medium forward into the future.'

Alexander Hamilton
Scotland has long been an incubator for photographic experimentation. In the 1840s, when David Brewster (Principal of St Andrews University) convinced his friend William Henry Fox Talbot not to patent his calotype process in Scotland, he opened the way for David Octavius Hill and Robert Adamson to experiment with the technique, for the foundation of the world's first photography club, and for nineteenth-century Edinburgh to become a hotspot of photographic activity.
Despite this excitement, photography did not establish itself as an art form, viewed more as a scientific process and a documentary technique. Hill himself turned away from photography in and back to painting. To date, only three photographers have been named as Academicians by the Royal Scottish Academy: Thomas Joshua Cooper, Wendy McMurdo and Norman McBeath.
In Search of the Blue Flower details Hamilton's lifelong engagement with the cyanotype process, a technique developed in the 1840s by John Herschel and adopted by pioneering photographer Anna Atkins, author of the world's first photographic book.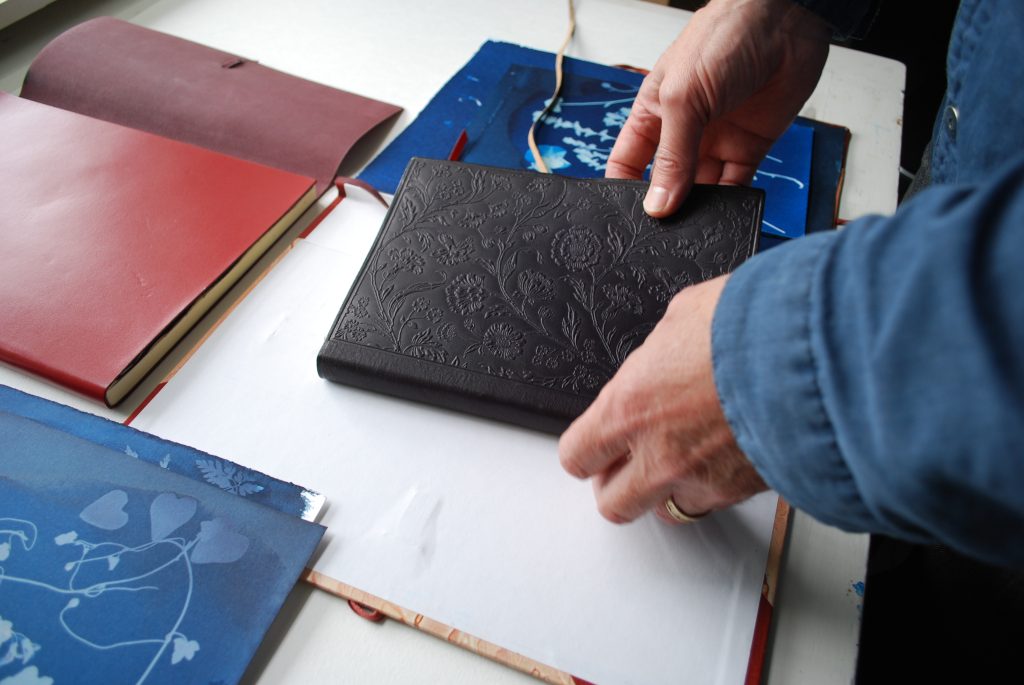 Hamilton first creatively used the process on the island of Stroma, soon after leaving art school in 1973. This engagement with art and nature was to be his journey as an artist for the next fifty years. Cyanotype produces immersive, deep blue images capturing the trace of plants laid on the paper. Hamilton's botanical cyanotypes illustrate a quest to capture the essence of nature. All of his plant images are unique.
The proliferation of cameras in the smartphone age has produced a renewed interest not only in early photography but also in non-mechanical, camera-less photographic techniques, and handcrafting processes that produce unique artefacts. Hamilton welcomes this curiosity, especially the upsurge of interest in Atkins' work. Her cyanotypes have been featured in exhibitions at the V&A, MOMA and elsewhere in the past five years.
'In Search of the Blue Flower' foregrounds Hamilton's wonderful cyanotypes. The imagery is complemented by a self-penned essay that details his remarkable history as an artist, and the intellectual roots of his work. A number of related essays by academics, scholars and curators completes this memorable publication. A rightful tribute to an exceptional artist.'

Dr Tom Normand HRSA, St Andrews University
Books in the Scottish Photographic Artists series combine an essay from the artist reflecting on the roots of their practice, a collection of critical essays on their work, and a selection of their work as high-quality art plates. The next volume showcases the work of David Williams and will be available in autumn 2023. Thereafter further artists will be selected, and their work showcased in the new series.
A series of launch events will be taking place in the coming months, including
Pre-publication event in Glasgow, at the Street Level Gallery: April 20, 6.30pm
Launch event in Edinburgh, at Topping & Company Booksellers, May 10, 7.30pm – Book your ticket