Our Scottish Studies Scottish Diaspora Virtual Issue has just launched, and features almost 30 journal articles and book chapters from across our Scottish Studies lists, with introductions written by Beth Cowen from Glasgow University and Ersev Ersoy and Kristian Kerr from Edinburgh University Press.
The issue will be available to access for free until next July.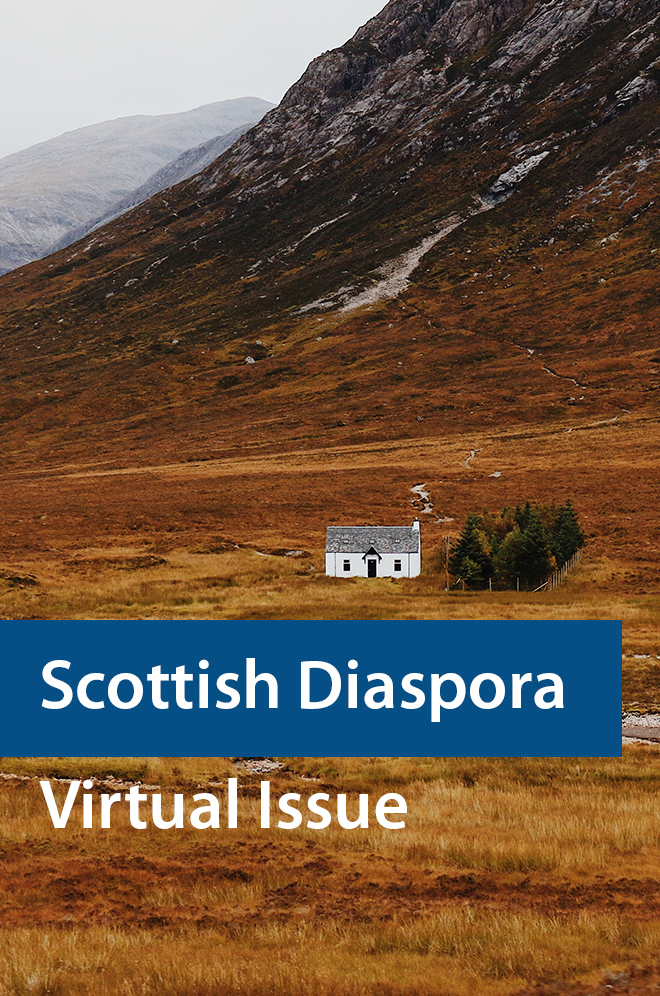 Scottish Diaspora Virtual Issue Journal Articles Selection Introduction by Beth Cowen, University of Glasgow
This collection of articles reflects the continued interest and research in Scottish diasporas that is still taking place today. This interest is maintained across various academic fields which is reflected by the different journals, printed by Edinburgh University Press, that have published on topics relating to Scottish diasporas both past and present.
While the exchange of culture and heritage globally is often something to be celebrated, it must be recognised that the establishment of these Scottish communities abroad was often, though not exclusively, the result of European colonisation. Five of the chosen articles reflect this history, which ought to be understood and shared. The other articles pertain to other aspects relating to Scottish diasporas, including themes such as identity, homecoming and society.
Access the articles in our Scottish Diaspora Virtual Issue
Scottish Diaspora Virtual Issue Book Chapters Selection Introduction by Ersev Ersoy and Kristian Kerr, Edinburgh University Press
Edinburgh University Press is proud to publish inter-disciplinary books which study Scotland's relationship with the rest of the world. We aim to promote a better understanding of the present-day legacies of the histories of empire and colonisation, as well as cultural identity, contemporary migration and nation building.
The topics of the book chapters presented here span more than 500 years, sweeping from the early seventeenth century to the present. Accounts of colonisation begin with Kirsten Sandrock's account of the utopian conceptualisation of Nova Scotia and Julie Orr on the unintended global itineraries of Darien deserters. A pair of chapters tell the story of Scottish sugar plantations in Guyana: David Alston uncovers the voices of enslaved people while Finlay McKichan examines the papers of slave- and plantation-owner Francis Humberston Mackenzie, Lord Seaforth.
In the nineteenth century, Romantic writers including Walter Scott constructed a collective memory for the Transatlantic world. Did Frederick Douglass, who visited Scotland in 1846, share that memory? The chapters on 20th and 21st century subjects examine diaspora identities (Gaelic identity in North America), stories of African migrants settling in Scotland (Piacentini), and public attitudes to immigration in Scotland (Westfall).
The collection closes with two contemporary analyses of the Scottish cultural sector: Writing Black Scotland: Race, Nation and the Devolution of Black Britain is available in its entirety; and we offer a pre-publication preview of a collection of essays that shows how Scottish academics, artists and heritage professionals are telling the story of Scotland's transnational legacy.
We are excited to continue to grow this collection and we hope you will enjoy this selection of chapters from important books on the subject. 
Access the chapters in our Scottish Diaspora Virtual Issue
---
Find out more about our Scottish Studies books and journals, and sign up to receive email updates with news, offers, and more.