By Peter C. Pugsley
In Japanese High School Films: Iconography, Nostalgia and Discipline, I write about how high school-based films capture a steady market in Japanese cinema. From the 100 plus high school films released in just over five years (2014-2020), and selected for focus in this book, there were four films that really stuck out and I kept returning to. Maybe this says more about me than the films but all four lean more toward the (melo)drama rather than comedy, even though they all have plenty of comic moments. Like many of these high school films, they gently explore issues of adolescence and avoid any gratuitous sex or violence of the kind found in the iconic Battle Royale films, or more recent efforts like Sono Sion's ultra-bloody, Tag (2015). No, most of these films would sit safely within a PG rating (or 'Unrestricted' in Japan), making them accessible to younger teen audiences drawn in by their promise of on-screen romance, and older audiences watching with a nostalgic yearning for their past. So, my four favourites are:
1. After the Rain (2018)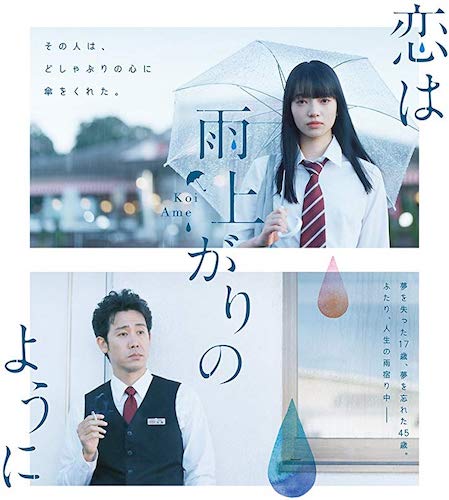 Based on a manga and released as a TV anime, also in 2018, it features award winning actor and fashion model, Nana Komatsu (she appeared in Martin Scorsese's 2016 film Silence) alongside the star of the 2016 hit Japanese zombie movie, I am a Hero, Yō Ōizumi. Komatsu's seventeen-year-old schoolgirl character has a huge crush on her much older boss (Ōizumi) from the family restaurant where she works. He resists her advances, but she persists. This film is beautifully shot, with cinematography by esteemed photographer Orie Ichihashi that amplifies the strong performances from both the leads. The script teases its way through the ethical minefield of an age-inappropriate relationship.
2. You Are the Apple of My Eye (2018)
A Japanese remake of a Taiwanese film, starring 23-year-old acting 'veteran', Yuki Yamada and Asuka Saito from the all-female J-pop band Nogizaka46. Yamada's character is stubbornly resistant to committing to a relationship with Saito's, and the film tracks their lives beyond high school and into college. Its comic moments are offset by poignant scenes (there's plenty of tears!) that highlight the frustrations of adolescents trying to communicate their feelings. 
3. Close Range Love (2014)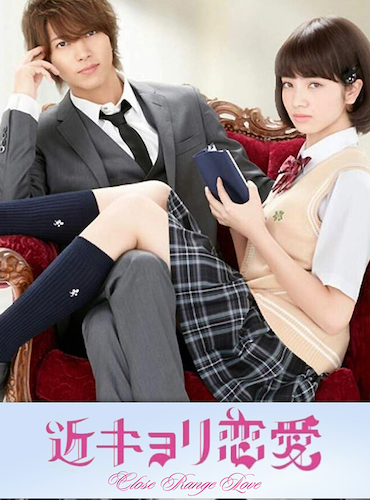 This one also stars Nana Komatsu, this time alongside pop idol, and sometime TV host, Tomohisa Yamashita (aka YamaP). Close Range Love is based on a manga but was also a live-action TV show. It's another schoolgirl crush film. This time, Komatsu's eighteen-year-old character has a thing for her teacher, and he foolishly responds with a quick kiss, leading to plenty of drama and the obligatory tears.
4. You, I Love (2018)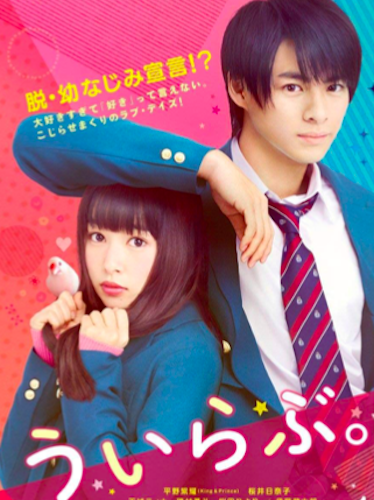 Another film based on a manga (are you starting to see a pattern here?), this stars actor and model Hinako Sakurai as timid schoolgirl, Yū, and pop idol, Shō Hirano, as her annoying would-be suitor. Hirano's character, Rin, lacks the maturity to show his true feelings, so he bullies and intimidates Yū. She soon tires of him and accepts the advances of her blond-haired friend, Keita. This leads to Rin jealously reconsidering his actions so that he can win Yū's heart.
In terms of the Japanese film industry, some obvious links can be seen here, from the use of manga as an original text (with many other films travelling the route from manga to anime to live-action feature). And secondly, the use of celebrity actors with multiple careers as pop stars, TV actors and models is important, especially in creating anticipation for their live-action performances of established manga characters. Even as I was finishing this book, new high school films were being released, reflecting the insatiable demand for a genre that excites audiences in a non-confrontational cinematic experience. You can read about these films and many more in Japanese High School Films: Iconography, Nostalgia and Discipline.
---
About the Author