By Sara Austin and Ann Wainscott
We met at New Faculty Orientation in 2018. Sara was seated across a large round table from me, and during introductions she mentioned that she was a scholar of children's literature. I immediately mentioned the books.
In March of 2016, I spent a week in Morocco doing some final interviews before I submitted my book manuscript, Bureaucratizing Islam: Morocco and the War on Terror. The book, published by Cambridge University Press in 2017, analyzes how the North African kingdom has used the pretext of the War on Terror to dramatically increase its regulation of religion.
In one of my final interviews, I met with Ahmed Abbadi, the head of the Rabita Mohammedia or League of Moroccan Scholars, a government-funded think tank on matters related to religion.
The interview took an interesting turn when we came to the work of the Rabita. While I had read over some of the publications on the League's website, I didn't know much about it. Abbadi insisted the institution had taken a more interesting turn in the fight against extremism. He spoke of cartoons, video games, children's books, and sophisticated websites, an all-out content-war with extremists online. They were sparing no expense, hiring top illustrators and video game companies. And then, as we stood up to leave, he handed me the books.
They were glossy, colorful, and beautiful. Three of them were from a series, "With Nasir and Basma." Abbadi was the main author. I flipped through the pages but didn't have the time to analyze them properly. My book manuscript was due to my publisher in May, and it was already mid-March. Two years later I moved to Miami University, and that's when I found myself sitting at New Faculty Orientation across from Sara.
When Ann mentioned the books to me in summer, I was interested, but it was really the publication and subsequent retraction of A Suicide Bomber Sits in the Library that got me thinking about how anti-terrorism children's literature works, and what threads of power it exposes. Watching the saga play out on Twitter and reading other scholar's words (Laura Jimenez, G Willow Wilson, The Asian Author Alliance) helped me think through how this book, and by extension Nasir and Basma, position education and the state as primary mechanisms of violence prevention.
The shift to working on children's literature revealed aspects of Moroccan religious policy that an institutional analysis could not. Sara immediately noted how passive the main child characters were, something that I had not originally noticed. I was more struck by how the state was positioned as the savior of the children. Putting together these two insights, we saw how the children's books reproduced the main failings of US-dominated CVE (Countering Violent Extremism) discourse. As we say in the article, CVE "discourse is not in fact a policy framework meant to reduce violence, but an attempt to reassure Western observers and ensure citizens' passivity" (p.53).
The fact that the books were handed directly to me by a member of the Moroccan religious bureaucracy underscores their performative function. Like CVE policy more broadly, the books are not actually designed to assist students in resisting recruitment by violent organizations. In the books, terrorists are depicted in totally unappealing and unrealistic ways, and the books are also written in Modern Standard Arabic, rather than the dialect used by Moroccan citizens. Rather, the books are for consumption by Western observers to be impressed by how "innovative" Moroccan CVE policy is.
The Moroccan state has been very successful at convincing Western observers of the efficacy of its approach. A quick Google search reveals tens of articles and news reports on Moroccan religious institutions that praise the Moroccan approach. But the Moroccan approach to counterterrorism makes several assumptions that should give Western observers pause. First, the policy is designed to benefit from a bifurcation of good Muslims and bad Muslims, as discussed by scholar Mahmood Mamdani in his book by the same name. Moroccan policy, which positions state regulation of religious institutions as the solution to violent extremism (VE), implies that extremism is a religious problem. The literature on VE largely rejects this claim, instead identifying political grievance and ineffective political institutions as key drivers of violence. By positioning VE as a religious problem, the Moroccan state draws attention away from the need for political reform and toward the idea that the state only needs to take greater control of the religious field to prevent violence. But the scholarly literature suggests that state regulation of religion is an important predictor of preventing democratization. Put simply, policy ostensibly meant to prevent VE is likely preventing democratization, suggesting that current policies will long-term drive more violence as citizens continue to feel their own institutions are not justly adjudicating their grievances.
The Nasir wa Basma series that we analyze in the article 'Children's Literature as a Front in the War on Terror: Ineffective Policy, Ineffective Literature (from International Research in Children's Literature, Volume 14, Issue 1) lays bare this dynamic. The books suggest that citizens need only trust the paternalistic, authoritarian state to regulate religion and all will be well. But if violent extremism is caused by political grievance and unresponsive state institutions, then the real long-term solution to this problem is the opposite of what is suggested by these books: political activism in favor of responsive, democratic political institutions. What we need are active citizens demanding change, not docile subjects accepting surveillance. Children's literature is one place to start.
---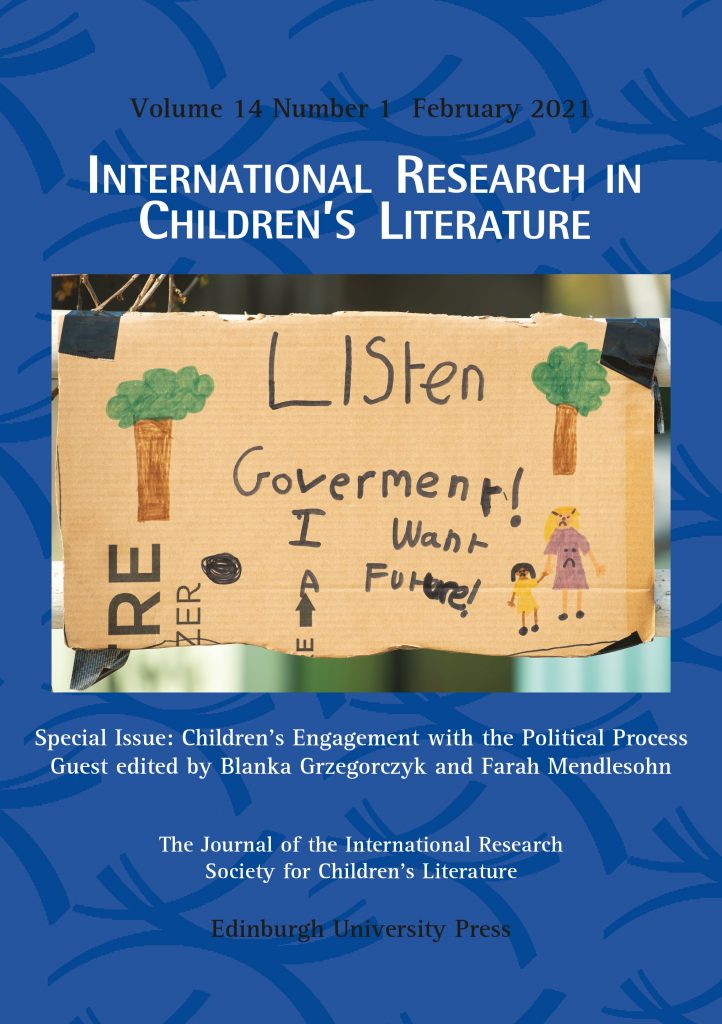 International Research in Children's Literature is essential reading for scholars in the field of children's literature. The journal primarily focuses on applications of cultural and literary theories, comparative literatures, and the production and reception of children's literature as a world literature. Widely international in scope, the journal addresses the diverse intellectual currents of this constantly expanding subject area. Find out how to subscribe, or recommend to your library.