By Tom Ue
Dash & Lily (2020-), Netflix's charming new adaptation of Rachel Cohn's and David Levithan's popular YA series (2010-), has achieved an enviable 100% on Rotten Tomatoes, with critics lauding its performances, story, and festive mood. The first season, in eight episodes, traces the romance between two teenagers as they come to know each other by means of exchanging letters. Snarly Dash (Austin Abrams) and bubbly Lily (Midori Francis) write in a red notebook that they leave for each other in various locations around New York (figure 1). This ambitious initiative is supported by a chorus of friends and relatives.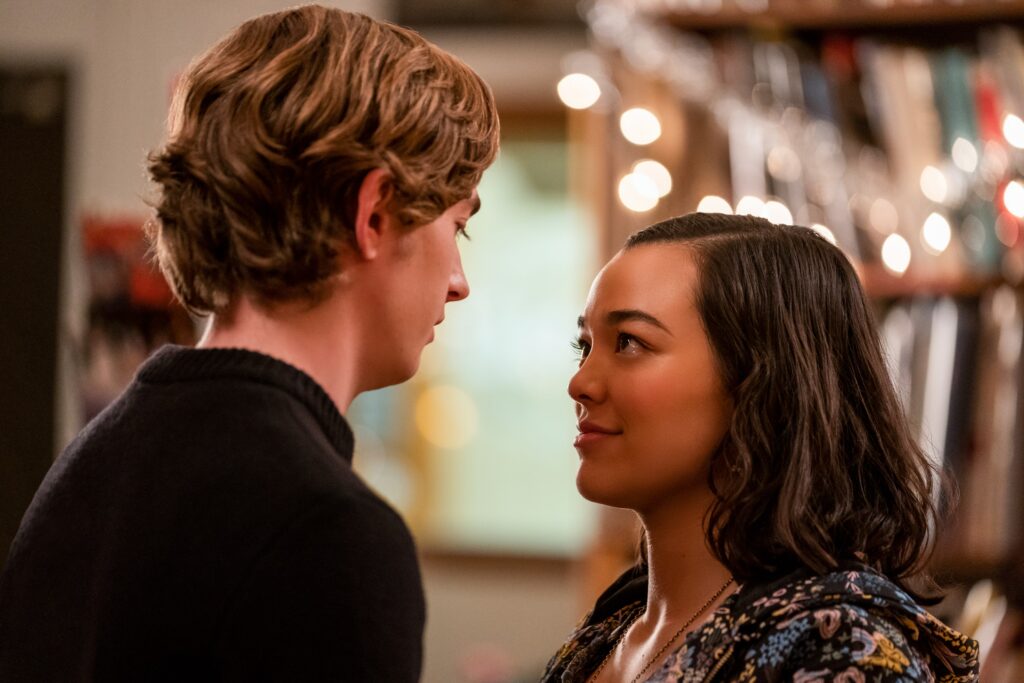 Dash & Lily's progenitors include Paula Danziger's novel Remember Me to Harold Square (1987) and Nora Ephron's beloved rom-com You've Got Mail (1998). Its connection to the fiction of Victorian writer George Gissing may seem tenuous. The series is cheery, and the latter, gloomy. Gissing is not always so. His friend H. G. Wells remembers how much he loves to laugh, and a closer inspection of his writing reveals the occasional, ironic chuckle. The character Whelpdale's courtships in New Grub Street (1891) have the makings of a fine rom-com, and Gissing's juvenilia, treated in my upcoming book Gissing, Shakespeare, and the Life of Writing, reveal a humorous side.
The juxtaposition of Dash & Lily with Gissing is illuminating. Consider, for instance, the manner in which Cohn's and Levithan's characters variously project, conceal, and (re)invent themselves in their anecdotes, challenges, confessions, and dares. The second-last episode is a case in point. Dash finally catches up to Lily at McSorley's—only to find her drunk and kissing Edgar (Glenn McCuen). Dash and Lily come to realize that they have both been keeping secrets and they fall short of each other's expectations. He admits to Lily in their notebook: "[W]e set ourselves up for this disappointment […] I was never going to be the guy in your head and you were never going to be the girl in mine. The fantasy was never going to live up to the reality. There's no such thing as a Christmas miracle." True to his name, Dash is quick to write off their romance. Surely, he goes too far: that the fantasy falls short of the real thing does not mean that no part of their relationship had been real.
More than a century ago, Gissing had discovered the potentialities of letters to promote (mis)understandings, and he too features a dash-ful character. In the early stages of Born in Exile (1892), Godwin Peak labours over a letter to Lady Whitelaw. His attempts at communication are stifled by gaps and suppressions as he tries to conceal his real reasons for withdrawing from Kingsmill:
It was not easy, at his time of life, to compress into the limits of an ordinary epistle all he wished to say to the widow of his benefactor. His purpose was, with all possible respect yet as firmly as might be, to inform Lady Whitelaw that he could not spend the last of his proposed three years at the College in Kingsmill, and furthermore to request of her that she would permit his using the promised sum of money as a student at the Royal School of Mines. This had to be done without confession of the reasons for his change of plan; he could not even hint at them. […] The lady must interpret that as best she might. Very hard indeed was the task of begging a continuance of her bounty under these changed conditions.
Hundreds of pages later, Godwin's final words are communicated by post, in "a few words of English, written, or rather scrawled, in a hand there was no recognising." Born in Exile offers particular insights into Gissing and into issues ranging from class to religion and from evolution to censorship. It is the subject of Gissing's Born in Exile and the Fin de Siècle, my new, special issue of Victoriographies. In it, Rachel Bowlby and I suggest the novel's relevance and explore its canonicity. Richard Dennis examines its treatment of geography; and Constance Harsh, how London presents a way of thinking. Lynda Mugglestone attends to the novel's language; and Jeremy Tambling, the debate between a theology grounded in the belief of divine creation and the science of evolution. The six essays provide a program for reading this important Victorian novel, and they bring together some eminent scholars in conversation.
My collection forms a part of my new project, "Recovering George Gissing's Born in Exile (1892)." Supported by the Social Sciences and Humanities Research Council of Canada through an Insight Development Grant, it takes the novel as a test case for reconsidering nineteenth- and twentieth-century intellectual history; and for illuminating Gissing's crucial role as a social critic. With the assistance of Jane Boyes and Lauryn Collins, graduate research students in the Department of English at Dalhousie University, I am preparing a new critical edition, the first in over two decades.
Dash hints to Lily that his "name is a connector of words." It follows that they would fare better than Godwin. As the holiday season beckons, why not give Gissing a try?
---
Tom Ue researches and teaches courses on nineteenth-century British literature, intellectual history, and cultural studies at Dalhousie University. He is the author of Gissing, Shakespeare, and the Life of Writing (Edinburgh University Press, forthcoming) and George Gissing (Liverpool University Press, forthcoming), and the editor of George Gissing, The Private Papers of Henry Ryecroft (Edinburgh University Press, forthcoming). Ue has held the prestigious Frederick Banting Postdoctoral Fellowship and he is an Honorary Research Associate at University College London.
---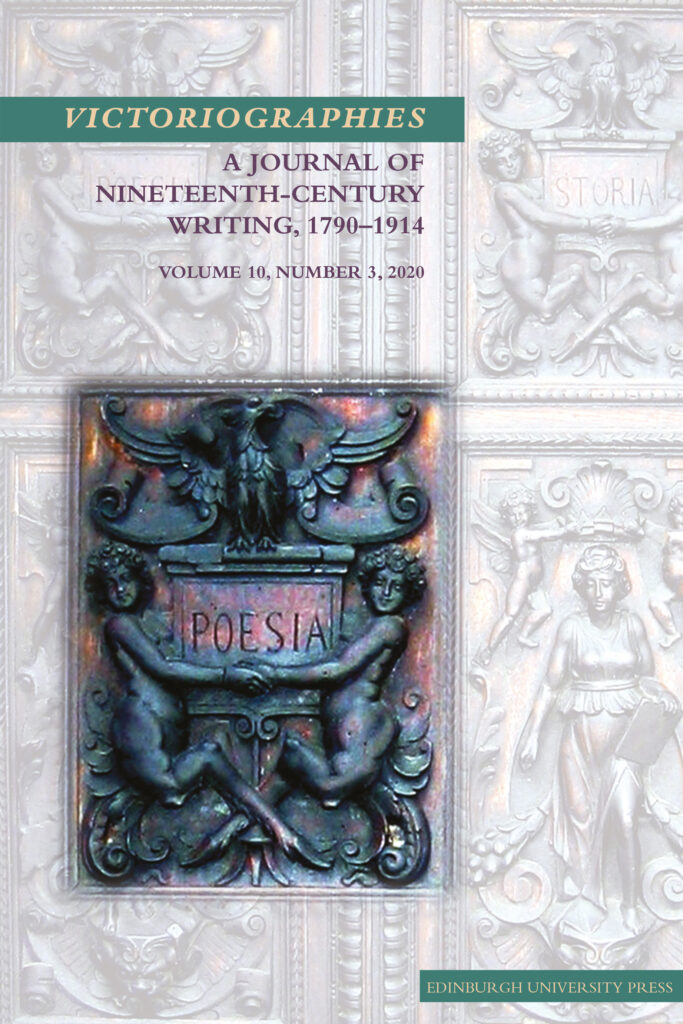 Victoriographies: A Journal of Nineteenth-Century Writing, 1790-1914 is a journal that focuses on the writing of the long nineteenth century, as well as writing about the nineteenth century. The journal explores these works and canonical texts and authors as if for the first time, interrogating the understudied, those authors and publications who demand a response. All forms are considered, including literary texts, poetry, prose fiction and prose non-fiction, within the period of the long nineteenth century. Find out how to subscribe, or recommend to your library.