Professor James Hunter – founding director of the University of the Highlands and Islands' (UHI) Centre for History and author of 'History: its Key Place in the Future of the Highlands and Islands' from Northern Scotland 27.1 – in his inaugural lecture, emphasised the importance of heritage to the future prosperity of the Highlands and Islands. He argued that economic success is linked to a people's sense or worth:
if a people's neglected traditions begin to be treated with respect, greater self-assurance tends to follow
Negative interpretations of Highland culture have pervaded from the medieval period as first the Scottish state, and then the British, subsumed previously autonomous Highlands and Islands institutions. What better way to achieve compliance and justify your actions than to devalue, disparage and dehumanise the inhabitants?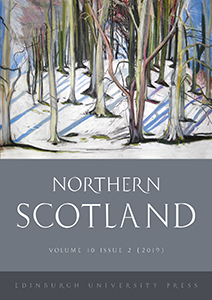 Patrick Sellar, infamous factor of the Sutherland Estate, in 1815 described the people to be removed from their homes during the Strathnaver Clearances as a "barbarous horde". He saw the process of estate development as a humane action brought about by benevolent benefactors. Irrespective of the arguments for improvement and undoubtably some of the people who were removed, thrived, a way of life was destroyed in a very short period.
The 'othering' of the Highlander sought to erode a culture rich in poetry, song, music, and storytelling. The voice of the people was suppressed, beaten for using the rich language of their forefathers, as sheep roamed the once populous glens.
Culture influences personal identify through language, literature, art, customs and beliefs so people's ability to tell their own story is extremely important. Broadcaster and historian, Dr Ian Grimble, promoted the vital role heritage could play to the area's economic regeneration during the 1950s. Supported by a dedicated band of local visionaries they created a museum to tell the people's own story, act as a depository of academic research and become a catalyst for economic and social development. Opening in 1976 Strathnaver Museum in Bettyhill has since become an important visitor attraction welcoming over 6,000 people in 2019.
In 2014 Land and People in the northern Highlands: The Strathnaver Conference, organised by the UHI Centre for History's Dr Elizabeth Ritchie welcomed over 80 academics from universities around the world along with participants from the local community. The importance of bringing an academic conference to what is often viewed as the 'periphery' to benefit local people, both economically and socially, cannot be overstated. As Professor Hunter described in his lecture, as a young man in the 60s, and as I too heard growing up in the 90s, in order 'to get on, you had to get out'. UHI Centre for History is today internationally renowned for its teaching and research in Highland, Scottish and wider world history, bringing numerous opportunities to people across the Highlands and Islands for study and work as well as attracting much needed inward migration.
Highlands and Islands history cannot be viewed in isolation. All through history migration has caused culture to be disseminated, shared and shaped by the interactions of groups of people. Interest in Scottish history is global, in large part due to the emigration of its people, and the large number who claim Scottish descent as a result. The opportunity to develop and deliver heritage services for this vast audience, whether virtual or in person is huge.
The museum sector in Highland has long recognised the importance of heritage for tourism development which can in turn bring additional benefits to our communities. Museums and Heritage Highland (MHH) is a newly established grassroots industry organisation which seeks to do just that. The recently launched XpoNorth and MHH support programme will see museums and heritage organisations in the Highlands and Islands work with creative industries to bring forward and develop innovative ideas.
The sector is bursting with energy, enthusiasm and ambition and a great deal of this is being led by communities. The recently redeveloped Gairloch Museum has been shortlisted for the RICS Social Impact Awards recognising the built environment's positive and transformational contribution to society. Strathnaver Museum, Glencoe Folk Museum, Nairn Museum and the Highland Museum of Childhood are all pursuing redevelopment projects.
New grassroots heritage organisations are also emerging to provide solutions to local social and economic challenges. Caithness Broch Project, formed in 2016, identified the potential of the rich archaeological heritage in Caithness to create economic opportunities. This ambitious and exciting project would see the creation of a replica broch, built as a tourist attraction, which would contribute to the local economy and be part of a wider strategic response to the decommissioning of Dounreay Nuclear Power Plant.
Similarly, the John O'Groats Mill Trust formed in 2017, to find solutions to preserve the regionally important B listed Mill building while also delivering social and economic benefits to the local community. After a mere 2 years the group are in the process of purchasing the site, which includes 2 self-catering holiday lets, as they now look towards securing capital for the redevelopment.
These are all ambitious grassroots projects, at the heart of the communities they serve, embracing local heritage enabled by confident and bold local visions. As James Hunter concluded in his inaugural lecture setting out the vision for UHI Centre for History "Ambitious? Of course, but why not?"
By Fiona Mackenzie
---
A University of Edinburgh history graduate, Fiona Mackenzie combines her passion for history with community development. Development Manager with Strathnaver Museum and a voluntary director of the John O'Groats Mill Trust and Museums Heritage Highland she is working on two large-scale redevelopment projects to capitalise on the increasing popularity of the NC500 and bring social and economic benefits to the community.