By Kim Wilkins
This year marks the twentieth anniversary of Spike Jonze's first feature film, Being John Malkovich. Until Being John Malkovich's release in 1999, the name "Spike Jonze" was predominantly associated with music videos and skateboarding videography. Some of these music videos combined convention with experimentation—Pharcyde's "Drop", Daft Punk's "Da Funk"—while others played with popular culture—Weezer's "Buddy Holly", The Beastie Boys' "Sabotage", Björk's "It's Oh So Quiet." Taken together, Jonze's immensely popular music videos demonstrate an aesthetic strategy full of playful tensions—when genre is evoked, parody is never far behind, and when nostalgia emerges, critique closely follows; formal convention is met with stylistic exploration.
Given these tendencies, perhaps we could have foreseen that Jonze's debut feature would be somewhat offbeat. But even within the '90s-00s burgeoning mind-game film cycle, who in their (own) right mind could have predicted that an existential comedy-drama-scifi-fantasy-romance-bodyswap-heist film about a depressed out-of-work puppeteer (played by John Cusack) whose life is thrown into turmoil when he stumbles across a portal into the mind of John Malkovich behind a filing cabinet on the 7 ½ floor of his New York office building would ever see the light of day, let alone receive Academy Award nominations?
Twenty years on, Being John Malkovich is still one of the most bizarre – and hilarious – viewing experiences I have ever had. Few films are propelled by a character's desire to literally become someone else—only Johnathan Frankenheimer's Seconds (1966) and Jordan Peele's Get Out (2017) spring to mind as kin.
Twenty years distance has done little to dampen Being John Malkovich's outlandish surprises. What this time has allowed for is reflection on how Jonze's debut feature film may function as a reference point for the aesthetic and thematic projects that resonate across his ongoing body of work.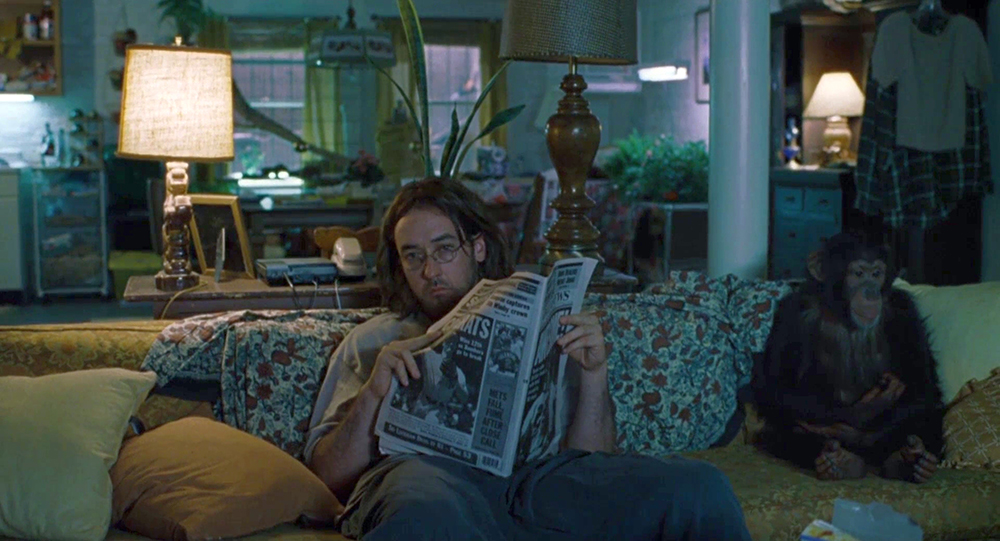 A good example of these projects emerges in an early sequence in which Craig watches a televised marionette performance by a rival puppeteer with Elijah, a pet chimpanzee. Overcome with jealousy and self-pity, Craig informs Elijah that "[he doesn't] know how lucky you are being a monkey. Because consciousness is a terrible curse. I think. I feel. I suffer." The combination of absurdity and mundanity in this scene is undeniably humorous, and yet, it is deeply troubling at the same time. Craig is, sincerely, admitting that he is experiencing existential crisis, but his statement reveals that part of this crisis stems from a complete inability to recognise that others too are capable of feeling. That he makes this statement to Elijah, whom we later learn is undergoing therapy "for feelings of inadequacy as a chimp," highlights this fact—albeit, again, through a comedic tone. This sort of multivocality is characteristic of Jonze's work.
That Being John Malkovich resists neat categorisation is indicative of Spike Jonze as a creative practitioner whose output spans feature and short films, screenwriting, music videos, advertisements, television production, and acting. As such, our aim in Refocus: The Films of Spike Jonze was not to impose a cohesive narrative in order to fulfil the requirements of traditional auteurist studies. On the contrary, chapters in this collection challenge charges of independence and artistic autonomy that accompany auteurist demarcation, while others home in on traditional auteurism's theoretical opponent—collaborative creativity.
Rather than adhering to existing frameworks of legitimation, our contributors meet Jonze at his own sites of creativity. This is not to suggest a complete absence of discernible thematic, narrative or aesthetic threads throughout Jonze's tapestry. Refocus: The Films of Spike Jonze invites readers to trace, and extend, thesethreads through a series of intersecting and ongoing conversations.
ReFocus: The Films of Spike Jonze edited by Kim Wilkins and Wyatt Moss-Wellington is available now. Find out more on the Edinburgh University Press website
---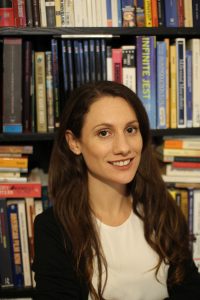 Kim Wilkins is a Postdoctoral Fellow in Screen Cultures, IMK, at the University of Oslo, Norway. She is the author of American Eccentric Cinema (Bloomsbury Academic, 2019), as well as articles and chapters on indie cinema and quality television. Together with Wyatt Moss-Wellington, she is the co-editor of ReFocus: The Films of Spike Jonze (EUP, 2019).