An interview with Nathaniel Greenberg – author of How Information Warfare Shaped the Arab Spring: The Politics of Narrative in Tunisia and Egypt – first featured on the Jadaliyya website. Read the original interview
---
Jadaliyya (J): What made you write this book?
Nathaniel Greenberg (NG): 25 January 2011. I was living in downtown Cairo with a grant to research the literary fallout of the 1952 revolution. The uprising against Mubarak swept in and "swept me off my feet." Like a lot of us, I have been writing about the experience ever since.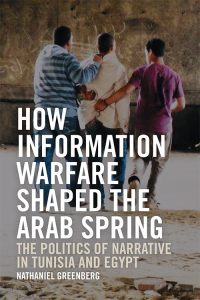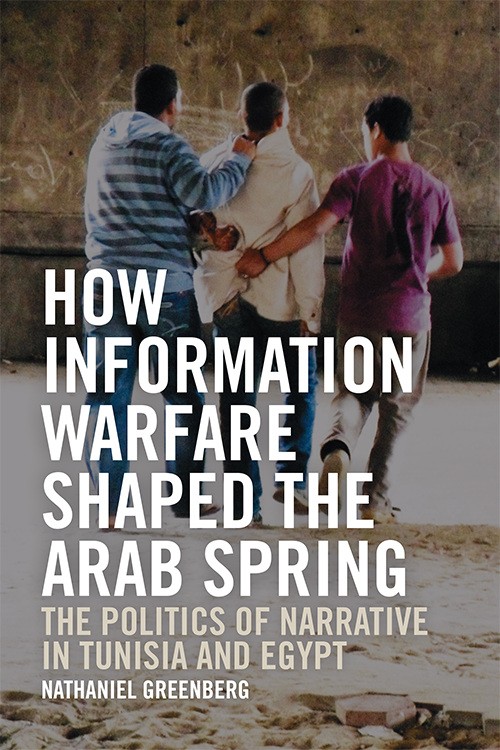 But this book is about something slightly different. It is about misinformation and how major world powers used the Arab uprisings to fashion their own political agendas; how domestic regimes capitalized on their alliances abroad; and how media became a weapon of war in the post-revolutionary struggle for power. Its seed was the sense of an extreme disparity between the rhetoric I was hearing on the ground in Egypt—outside of Tahrir—and how entrenched the narrative of the uprising had become among people who were consuming news about the uprising abroad. I became entranced with the paradoxical notion that Information and Communication Technology had both enabled more voices and consolidated the narratives through which news and history are retold. I wanted to unpack this paradox and I wanted to do it through a very immediate, eye-level perspective.
J: What particular topics, issues, and literatures does the book address?
NG: The biggest discovery behind this book happened by chance. I do not want to give away too much, but it has to do with going back to look more closely at what WikiLeaks was doing during the outset of the uprising in Egypt. Tarek Ramadan, Linda Herrera, and others had looked at some of this material. But what I found was shocking and it served to totally undermine, in my view, the accepted narrative paradigm (shared by many academics, myself included) regarding WikiLeaks' role in the uprisings. What I found was a concerted effort—or willingness—on the part of Assange's organization to allow their stolen documents to undermine the work of democratic activists in Egypt. It started with a stolen State Department memo, released by WikiLeaks and published in the Daily Telegraph of London, strategically, on the eve of the Friday of Rage (28 January). The document was from years prior but framed in a way (The Telegraph published it under the headline "Secret US Backing for Egyptian Rebels") that was sure to compromise the legitimacy of the April 6 movement in particular. Al-Ahram published a translation of a similar "leak" regarding the NGOs that appeared in Norway's Aftenpost the day after. All of this gave fuel to Mubarak's famous midnight speech on the 28th about a "plot" to undermine the State. It is arguable that democratic activism in Egypt has never recovered from the damage unleashed by WikiLeaks.
But the big discovery was that, apart from the article itself, the comments section revealed a huge cache of bizarrely patterned discourse. The Telegraph article carried thousands of comments, almost all of them written with the same kind of racist, Islamophobic, and anti-Semitic rhetoric that would surround the Trump campaign in 2016. This surprised me and when I looked more closely I saw that some of the very same "commentators" who had helped fuel the viral spread of the Telegraph article (it exploded on the Drudge Report) had reappeared in 2016 pumping racist, bellicose commentary in favor of Trump across a range of far-right media outlets, like Breitbart News and The Hill. Some of the commentators had literally tens of thousands of comments to their name, which confirmed for me (in consultation with security experts) that they were professional trolls. Just as with the American elections, the WikiLeaks dumps on Egypt served as a springboard for an elaborate information war aimed at undermining the spread of democracy and empowering an authoritarian agenda sympathetic to Russia. I contacted the lead reporter on the Telegraph piece to ask about the history of that article. He responded that he would talk to the editors and get back to me; a week later, all of the comments were erased. Fortunately, I captured a lot of it through screenshots, which allowed me to pursue several of the major lines of inquiry that are now in the book.
J: How does this book connect to and/or depart from your previous work?

NG: I am interested generally in the relationship between political transformation and cultural innovation, basically a Marxist-humanitarian mode of thinking that I think comes across fairly strongly in my first two books. But I would say this book also crystalizes what has been a long-standing theoretical position of mine that—in line with a Habermasian mode of thinking—rejects post-structuralism and the notion that narratives are produced in a vacuum—that the "author is dead," so to speak. While much of the proxy-information war that I discuss in this book was waged through viral memes and false narratives, I work to uncover the origins of these campaigns, to identify, if not the individual or organization that initiated rumor x or narrative y, who stands to benefit from one narrative or another and what kind of historical patterns those narratives mirror.

J: Who do you hope will read this book, and what sort of impact would you like it to have?

NG: I think we need to re-examine almost everything about the so-called Arab Spring, beginning firstly with the way in which the uprisings were talked about from the outset. My hope is that this book will serve as a valuable resource for cultural historians, political historians, and the counter-intelligence community—not least because it sheds new light on the communicative strategy of Russia in Egypt, in particular, as well as the long-standing narrative identity of groups like AQIM and Ansar al-Sharia. But there is also quite a bit of traditional literary analysis in this book—the final chapter examines the rise of Arab Sci-Fi, as well as the popular Egyptian film studio al-Sobki—topics I have been writing about and presenting on at conferences. Literary scholars, I hope, will appreciate this emphasis and hopefully people looking at the book from a social-science or security perspective will give the final chapter a chance as well.

J: What other projects are you working on now?

NG: I have been trying to engage with the situation in Libya, building on the background from my book with Jeff Halverson but focusing on new media. Like in Syria, we get the impression the fighting is unfolding in real time with a superabundance of digital recording masking the conflict. Libya is something of an information blackhole right now, in the sense that the conflict is thrusting together all these different proxy-communications operations—not just the global networks directing information towards the Arabic-speaking audience—be it RT Arabic, Al-Arabiya, BBC Arabic, Al-Jazeera or Al-Alam—but we have also got Italian and French lawmakers, of course divided on the issue, trying to frame their positions for their own domestic audiences. It is a huge challenge but it is fascinating and rather urgent.

J: Why Edinburgh UP?

NG: Nicola Ramsey, the editor at Edinburgh University Press, approached me about doing a book. I am thrilled that I did. She did not blink once. I am grateful to Edinburgh for taking it on and for doing it quickly!
How Information Warfare Shaped the Arab Spring: The Politics of Narrative in Egypt and Tunisia by Nathaniel Greenberg is available now. Find out more on the Edinburgh University Press website
---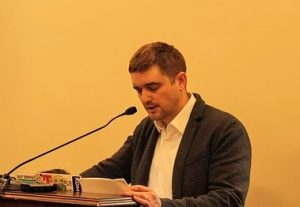 Nathaniel Greenberg is the author of The Aesthetic of Revolution in the Film and Literature of Naguib Mahfouz (1952-1967) and Islamists of the Maghreb with Jeffry R. Halverson. He lives in Northern Virginia where he works as an Assistant Professor and Head of the Arabic programme at George Mason University.