This region, North Africa and West Asia, is where Christianity began, nearly 2,000 years ago. Many Christian communities today trace their histories back over the entire period. At the same time, there is no region in the world where Christians are more at risk of extinction, as civil wars, persecution and economic distress have resulted in a massive exodus of the Christian population. This volume documents that exodus while it is underway.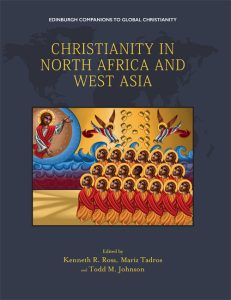 Both the statistics and the narrative make it plain that, proportionately, Christianity in North Africa and West Asia is in decline, sometimes catastrophically so. In countries like Syria and Iraq, heartlands of the Christian faith since its beginnings, a sobering tale is told of Christian communities being uprooted and dispersed by the turbulent situation of the early 21st century. At the same time, it is not all a story of decline, doom and gloom.
The flipside of the outward migration of Christians is that several of the ancient churches have developed a far-flung diaspora and sustain their ecclesial life in such new contexts as Europe, America and Australia. There are also growth areas for Christianity within the region. Christian migrant workers have brought a significant Christian presence to the Gulf region while in several contexts there is evidence of growth in the numbers of "secret" believers who practise Christian faith quietly so as not to cause offence in their social context.
Whether with ancient or modern expressions of Christian faith, the great question in this region is how Christianity can sustain and express itself in a predominantly Islamic context. However, our volume – Christianity in North Africa and West Asia – also considers nations like Armenia, Georgia and Cyprus where Christians form a majority and ancient traditions are being renewed.
Given the pressures being brought to bear on Christian communities in large parts of this region and their sense that their plight and prospects are often low on the agenda of the Western powers, our publication has been warmly welcomed by Christians within the region. Perhaps particularly welcome will be the attempt to allow Christian communities to be represented in their own terms when they have often been subject to myths and stereotypes. They have paid a high price for being misrepresented as relics of European colonialism and lackeys of the West when, in fact, many of the communities have a history that pre-dates Islam and includes a leading role in the anti-colonial struggle. Hence, as well as being one volume in a Series that accounts for Christianity globally, this book has urgent geopolitical relevance in this turbulent and strategically important part of the world.
---
About the Editors
Kenneth R. Ross, co-series editor of the Edinburgh Companions to Global Christianity. Kenneth was Professor of Theology at the University of Malawi and has also served as General Secretary of the Church of Scotland Board of World Mission. Over the last three decades he has published extensively on Global Christianity. Currently he is parish minister at Netherlorn in Argyll, Hon Fellow of Edinburgh University School of Divinity, and Chair of the Scotland Malawi Partnership. He was awarded the OBE in the Queen's New Year Honours in 2016.
Todd M. Johnson, co-series editor of the Edinburgh Companions to Global Christianity. Todd is Associate Professor of Global Christianity and Director of the Center for the Study of Global Christianity at Gordon-Conwell Theological Seminary in Boston, MA. Johnson is Associate Faculty at Boston University's Institute for Culture, Religion and World Affairs leading a research project on international religious demography. He has published encyclopedias, atlases, databases, monographs, and scholarly articles on counting religionists around the world.
Mariz Tadros is Professor and Co-Leader of the Power and Popular Politics Cluster at the Institute of Development Studies, University of Sussex. She is author of Copts at the Crossroads: The Challenges of Building an Inclusive Democracy in Contemporary Egypt (Oxford University Press, 2016) and The Muslim Brotherhood in Contemporary Egypt: Democracy Redefined or Confined? (Routledge, 2012). She is editor of Women in Politics: Gender, Power and Development (Zed Books, 2014).