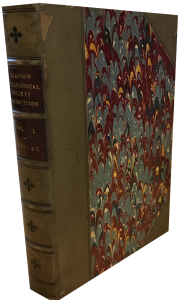 Glasgow Archaeological Society has been committed to publishing papers and disseminating information on archaeological findings and discoveries since it was founded in December 1856. The first part of what was to become the first volume of the Transactions of Glasgow Archaeological Society (Old Series) appeared in 1859 and contained five articles, each of which were reports of papers that had been read to the Society.
The completed Volume 1 appeared 150 years ago in 1868. It contained 33 separate items, ran to 504 pages and included tables and a pull out section but there were no other illustrations and no photographs. The second volume was published in 1883 by James Maclehose & Sons, St Vincent Street, Glasgow, publishers to the University. It had appeared in three parts, ran to 348 pages and contained illustrations which related mainly to the first excavation report published in the Transactions.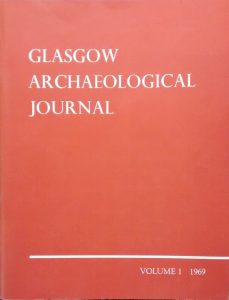 However, as archaeology changed, so did the Transactions and there was a considerable growth in the number of excavation reports and site and artefact studies. Photographs were introduced and indexing of individual volumes continued until Volume XII (1953) with a cumulative Index of Old Series (Vols I and II) and New Series (Vol 1 – VI) being published in 1916. But by the end of the 1960s it was clear that something had to be done to freshen the publication. The new Journal, Glasgow Archaeological Journal (GAJ), had a change of cover, a change in paper texture and size and moved to having pages with text in two columns. The first four volumes were individually indexed and the next (and last) index to appear was in GAJ 10 (1983) which was a cumulative index for the first ten volumes. GAJ appeared intermittently until 1978 when a new Editor, Euan MacKie took charge on Volume 5.
In 1981 Volume 8 of the Journal was published under an editorial team of MacKie and Alex Morrison. This team continued to publish GAJ until Volume 20 (1996–97) and they delivered on the promise to publish annually. In 1999 the Journal appeared under the auspices of a new Editor, Stephen Driscoll and an Editorial Board. This was a major innovation. Driscoll explained in his first editorial that the Board consisted of 'scholars from around Britain with a deep knowledge of Scottish archaeology… experience of all periods and experience in a wide range of theoretical and methodological approaches' as well as having 'links with Glasgow' and being 'familiar with the Society'. Driscoll also intimated an intention to publish a second volume each year which he believed would allow for the 'publication of special thematic volumes' such as Dalrymple lecture series.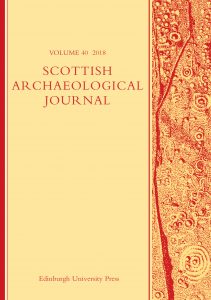 Accordingly, in 2000, Driscoll oversaw the launch of the Scottish Archaeological Journal Volume 22 parts 1 and 2. It had been decided to continue the numbering from the GAJ volumes although the cover was changed and the text returned to the full page format. A new publisher, Edinburgh University Press, was also found and agreement reached to have all previous GAJ and future SAJ issues made available on line to members and subscribers. There are always new issues to deal with but the Society, its Editor and Editorial Board remain committed to continuing our 150 year history of publishing a Journal on the archaeology of Glasgow, Scotland, and wherever else our authors may take us. In this new issue of Scottish Archaeological Journal we are publishing colour images for the first time and hope to continue and expand this initiative in future. We will continue to be guided by the members of our Society and our readers and to encourage them all to offer ideas and papers as the Journal travels towards its bicentenary.
This has been adapted from Jim Mearn's 40.1 editorial. Read the full editorial for free here.