It is with some trepidation, but also with a great sense of urgency, that we present a modest collection of excursions into the representation of intergenerational desire in children's literature. For it is a truth universally acknowledged that anyone who uses the words 'children' and 'sex' in a single sentence must be looking for trouble. Our dominant moral codes may very well prohibit the sexualisation of children, but we constantly indulge in behaviours and representations that are nothing if not sexualised phantasms of childhood.
Mainstream literary culture has long tended to ignore children's literature as a serious literary endeavour. Consequently, literature for young persons has become something of a 'wild zone' that is also (and for that very reason) 'a space for dissenters of all kinds'.
Defining the subject
Our guest edited special issue of International Research in Children's Literature – 'Love in a Rather Cold Climate: Intergenerational Desire in/and Children's Literature' covers the full scope of possible intergenerational sexual attractions that extends from mutual attraction which is also experienced as positive (and even desired) by the child to, at the other end of the spectrum, abusive situations in which a desiring adult inflicts his or her lust upon an unwilling child. Importantly, the term also leaves space for children's desires and agency and avoids the knee-jerk inference that any sexual contact between a young person and an adult is necessarily abusive and harmful.
When we speak of children's literature it is often taken for granted that we are talking about books written by adults for children, which means that these books can be expected to reveal very much about what adults think children should read, think, feel, like and desire. It is not always clear, however, that this accurately reflects real children's feelings. It also masks the fact that children's literature can be written by children for children. This is increasingly happening in the realm of online fan fiction, but it is also sometimes the case with conventionally published novels.
Mapping the field
Over the past two decades, considerable scholarly attention has been lavished upon the representation of teenage sexuality, and especially queer and other non-normative sexualities, in children's literature, especially in the Anglophone world.
Remarkably, contemporary children's and young adult literature addresses intergenerational desire more often than one would expect. We just don't always acknowledge it because it appears in juvenile fiction in many guises. The subjects of rape (of a youngster by an adult), incest and teenage prostitution, for example, are regularly addressed in juvenile fiction. But they are also central to the question of intergenerational desire as they are about adults who desire sex with (usually unwilling) children and teenagers.
Many classic children's books from the nineteenth century already contain homosocial themes and portrayals of same-sex friendships that give these books a decidedly queer flavour. Eric L. Tribunella, for example, has argued that Edward Stevenson's Left to Themselves (1891) was, in fact, the first gay children's novel ('Between Boys'). There have also been queer readings of such diverse classic titles as Thomas Hughes's Tom Brown's School Days (1857) (Tribunella, 'Tom Brown'), the stories of Horatio Alger (Moon) and Frank L. Baum's Oz books. Perhaps inevitably, considering our own culture's prurient obsession with the sexual habits of others, there has also been considerable speculation about the attraction to children that critics have detected in the life and/or work of Victorian luminaries. Lewis Carroll is the perennial usual suspect in this regard (Hurley, Israel, Pierce, Robson, White), along with J. M. Barrie (who never laid hands on the Llewelyn Davies boys; Birkin) and John Ruskin, who was infatuated with both teenaged artists' model Rosa La Touche and Kate Greenaway's illustrations of naked young girls (Silver). It is not clear, however, whether this justifies the attribution of paedophile motives or desires to these men, for their attraction to children, and especially young girls, 'may have had [its] roots not in the paedophile's wish to violate the young, but in a fear of sex, particularly with mature women' that stemmed from the cultural segregation of men and women.
Radical designs on children's literature
No discussion of intergenerational desire in children's literature should overlook several newly emerging genres that retell, re-vision or re-interpret children's literature, both its themes and its formats, in a decidedly and sexually adult way. Tribunella has discussed Chris Kent's satiric retellings of R. M. Ballantyne's The Coral Island (1857) and Thomas Hughes's Tom Brown's School Days (1857) as explicit gay pornography and suggests that such books are not so much paedophile phantasies as 'an opportunity to (re)discover the lost possibilities of boyhood but with the added benefits of sexual agency'. In other words, such books provide a form of nostalgic wish-fulfilment, allowing us to imagine, through the proxy of these novels' young characters, the sexual exploits we wish we had indulged in as children or teenagers. Graphic novels have taken a similar route.
The boundaries of youth literature are similarly pushed in Boys' Love, a Japanese genre of cartoons and comics (manga) that depicts love between men. Boys' Love is typically 'created by female artists for a predominantly female audience' and depicts 'not only man-man, but also boy-boy, and man-boy love'. The genre has also spawned several computer games. Here, a youth-oriented medium is appropriated by adult female artists for the representation of underage and intergenerational gay sex and romance.
It should come as no surprise that the immensely popular Harry Potter franchise has proved fertile breeding ground for intergenerational slash. In her contribution to this collection, Jennifer Duggan has mined author interviews and fan comments on online slash fora to discover how both dominant social norms about sexual behaviour (which disapprove of intergenerational coupling) and a desire to push through such boundaries are in play in the practice of both writing and reading slash fiction. Her article focuses on Snarry slash in particular, a very popular form of slash that couples Severus Snape and Harry Potter.
Reading between the lines
It has repeatedly been suggested that intergenerational desire is not always an on-the-surface presence in juvenile literature and that finding it will sometimes require a queered reading between the lines. Such an approach is especially significant in the case of Carl Miller's discussion of a Hans Christian Andersen fairy tale. 'The Snowman' is one of Andersen's lesser-known stories and tells of a snowman who becomes enamoured of a heating stove – an incongruous attachment with little prospect of a happy end. In his contribution to this issue, Miller argues that the story reflects Andersen's own conflicted feelings about his doomed relationship with Harald Scharff, a famous dancer many years his junior. By carefully reconstructing the biographical context in which the story is embedded, Miller reveals how frustrated intergenerational desire is woven into the tale's fabric. He also teases out some of the implications of this subtext for our understanding of subsequent manifestations of the snowman motif in popular culture, as in Disney's film Frozen (2013). Andersen's tale and its biographical resonances are a timely reminder that erotic and romantic desires will out.
The topic of intergenerational desire in children's literature is a controversial one: if we frown upon and condemn people who sexually desire children, many people will undoubtedly a fortiori assume that such desires, and tales constructed around them, do not belong in literature for the young. But as the contributions to this modest collection show, along with an increasing body of scholarly work on children's literature, intergenerational desire is very much on the agenda in children's literature. The truths of human sexuality, both adult and juvenile, have a somewhat denser complexity than the myth of childhood innocence allows us to admit. If the contributions to this collection can help us further on our way towards puncturing that myth, they may also contribute to the undoing of some of the harm that it has inflicted upon young and less young alike.
---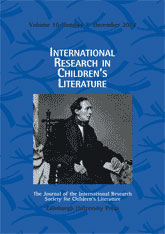 This blog has been adapted from Christophe Van Eecke and Elisabeth Wesseling's Introduction to their special issue of International Research in Children's Literature (December 2017). For more details and to browse the full issue, click here.