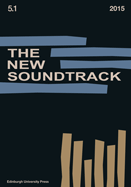 The HBO TV series, The Wire, is well known for capturing a realistic slice of Baltimore life in and around the city's drug trade. The show is considered to be more in touch with the world it portrays than previous television crime drama. Its approach to sound is an important part of this, with its variety of distinctive features setting it apart from other television shows.
In our featured article this week, Robert Walker analyses the technological, authorial, logistical and creative factors that have shaped the show's sound aesthetic. Based upon interviews with key personnel involved in The Wire, the article examines the defining aspects of the show's approach to sound design across sixty episodes. The role of music and sound effects is considered central to the notions of realism and verisimilitude in the show. The impact of audio delivery formats on how television is consumed has materially affected its content.
The Wire is an important case study in how 21st century television has the potential to find new forms of sonic truth to support its stated authorial goals. It achieves a sophisticated and believable sound world because of and in spite of recent technologies; it sets out clear rules about the use of music and then breaks them when it suits the format of the show. But by remaining pragmatic and relying on a degree of instinct and professional judgement, The Wire is on its own terms a very successful demonstration of how verisimilitude can be achieved, conveyed and employed in television sound, often using formal approaches and production methods closer to the cinematic.
'Don't pump up the emotion': The creation and authorship of a sound world in The Wire is available to read online now.
http://www.euppublishing.com/doi/abs/10.3366/sound.2013.0035
The next issue of our Journal The New Soundtrack is due out in March 2015. For more information, please go to
http://www.euppublishing.com/journal/sound