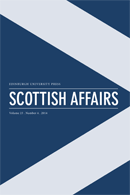 Scottish Affairs is published quarterly in February, May, August and November of each year. Founded in 1992, it is Scotland's longest running journal on contemporary political and social issues.
Fully peer-reviewed, Scottish Affairs provides the opportunity for analysis of Scottish politics, policy and society. The journal publishes authoritative articles on the development of Scotland, and also includes articles about similar small nations and regions throughout Europe and beyond. Whilst no subject area is excluded, particular attention is paid to the social and political content of their topic. Review essays and book reviews are also presented in the journal.
Scottish Affairs is the leading forum for debate on Scottish current affairs, which it often sets in an international and historical context, and in a context of debates about culture and identity.
The journal has an international Editorial Advisory Board and Editor is Lindsay Paterson, School of Social and Political Science, Edinburgh University.
Taking up a position between informed journalism and academic analysis, Scottish Affairs' readers and contributors include people who take an informed interest in current affairs as well as journalists, civil servants, business people, academics and politicians.
The next issue of Scottish Affairs is due for publication in February 2015.
For more information on Scottish Affairs and to download a sample edition, please visit our website at http://www.euppublishing.com/journal/scot