By Michael Rosie
In May 2021 Scottish Affairs gave over issue 30 (2) to a discussion on the position and prospects for Gaelic language and culture in Scotland. Edited by James Oliver (Royal Melbourne Institute of Technology) and Iain MacKinnon (Coventry University) the special issue addressed 'Scotland's Gàidhealtachd Futures'. These 'futures' were addressed across three themes: 'An Tìr, an Cànan 's na Daoine/The Land, the Language, the People'; 'Critical Legacies, Critical Conversations'; and, 'A Plural Gàidhealtachd'.
The special issue featured academic critiques of minority-language policy from Conchúr Ó Giollagáin and Iain Caimbeul, both of the UHI Language Sciences Institute; consideration of Gàidheil ethnicity by Iain MacKinnon; the demolinguistic challenge to Gaelic speakers in the Gàidhealtachd by Gòrdan Camshron (doctoral student at UHI); and a reflection on emplacing ethical relations by James Oliver. From outwith Scotland Lillis Ó Laoire (NUI Galway) explored cultural and linguistic loss; Emily McEwan-Fujita (author and linguistic anthropologist) discussed 'place' in the construction of Nova Scotian Gaelic identities. The issue also presented contributions from Mairi McFadyen and Raghnaid Sandilands (both independent researchers and practitioners) on creative cultural activism around the Land Question (Ceist an Fhearainn); from Cass Ezeji, a singer and linguist, on Gaelic Medium Education and Afro-Scottish identities; and from Déirdre Ní Mhathúna, an artist and researcher, on traditional ecological knowledge.
That special issue stirred considerable debate in Gaelic academic and policy circles and, in issue 31 (1) in February 2022, Scottish Affairs published two full length responses and three shorter rejoinders. In the responses Timothy Currie Armstrong (Sabhal Mòr Ostaig), Robert Dunbar (University of Edinburgh), Stuart Dunmore (University of Sussex), Michelle Macleod (University of Aberdeen), Wilson McLeod (University of Edinburgh), and Bernadette O'Rourke (University of Glasgow) responded to MacKinnon's article on Gaelic identity, and to both Ó Giollagáin & Caimbeul's article on language policy and to the book The Gaelic Crisis in the Vernacular Community produced by the Soillse research project's Islands Gaelic Research Project (Ó Giollagáin et al. 2020). In turn these authors – joined by James Oliver and by Gòrdan Camshron, Pàdruig Moireach (Sabhal Mòr Ostaig), and Brian Ó Curnáin (Dublin Institute for Advanced Studies) – offered rejoinders to the criticisms presented.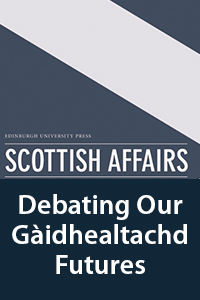 Scottish Affairs and Edinburgh University Press recognises the central importance of debates around Gaelic language, culture and policy in our contemporary Scotland and, indeed, in Scottish history more broadly. We are delighted therefore, to offer a special online issue which brings together the ten articles from our special issue 30 (2), the five responses and rejoinders from issue 31 (1), and five other articles on/around Gaelic from our extensive archives which broaden out the debate and offer some historical perspective.
These further articles comprise Fiona O'Hanlon and Lindsay Paterson (both University of Edinburgh) exploring the effects of higher exposure of Gaelic to a broader Scottish public; Murdo Macdonald (University of Dundee) on the different meaning of colour words in Gaelic and English; Sharon Macdonald (University of York) on the 'renaissance' of Gaelic and how it sat with wider Scottish identities around the formation of the Scottish Parliament; David McCrone (University of Edinburgh), who uses a review of James Hunter's Last of the Free (1999) to pose the question: 'Is The Gaeltacht a Nation?'; and Kimberley Masson (University of Edinburgh) who explores Gaelic, identities, and authenticity at one historic borderland for the Gàidhealtachd: Caithness.
Taken together these 20 articles make a crucial contribution to a broader understanding of issues and controversies around Gaelic language and policy, not least to debating our Gàidhealtachd futures.
---
Michael Rosie is editor of Scottish Affairs.
---
Scottish Affairs is Scotland's longest running journal on contemporary political and social issues and is widely considered the leading forum for debate on Scottish current affairs. Articles provide thorough analysis and debate of Scottish politics, policy and society, and is essential reading for those who are interested in the development of Scotland. Find out how to subscribe, or recommend to your library. To stay up to date with content, sign up for Table of Contents Alerts.
---
Our Scottish Studies list publishes high-quality books and journals that appeal to the student, the academic researcher and a well-informed public readership, reflecting Scotland's informed tradition of what George Davie called the 'democratic intellect'. Sign up for email alerts to get all of the latest news, releases, and offers from our Scottish Studies list.