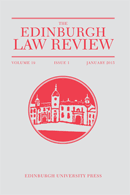 Edinburgh Law Review is a tri-annual published in January, May and September of each year. It is an international forum for the discussion of law and covers contemporary substantive law, legal theory and history. The journal contains high quality, original, refereed academic writing. Its distinctive feature is its focus on Scots law and the Scottish legal system, and it particularly favours articles which set the law of Scotland in an international and comparative context.
Founded in 1996, Edinburgh Law Review has an international Editorial and Advisory Board. The Journal's editor is Professor Martin Hogg (Edinburgh). Its readership includes University teachers and students of law world-wide, practitioners wishing to inform themselves of current developments, and those who have an interest in the Scottish legal system.
Edinburgh Law Review includes articles, analysis of developments in legislation and of court decisions, discussion of issues common to mixed legal systems, and reviews of major academic works. The current issue, published in January 2015, includes such topics as "The future Scotland wants – is it really all about Sustainable Economic Growth?", "The Curious Tale of the Black Spider Memos", and "Minimum Alcohol Pricing in Scotch Whisky Association v Lord Advocate", along with several academic reviews.
For more information on Edinburgh Law Review and to download a sample copy, please visit http://www.euppublishing.com/journal/elr