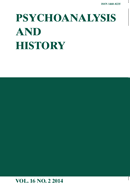 Psychoanalysis and History is a biannual published in January and July of each year. It is a peer-reviewed journal devoted both to the study of the history of psychoanalysis and the application of psychoanalytic ideas to historiography. The interdisciplinary aim of the journal is to form a bridge between the academic study of history and psychoanalysis.
Established in 1999, Psychoanalysis and History has an international Editorial and Advisory Board, along with a team of International Advisors. The journal's Editor is Matt Ffytche. It is indexed in the Web of Science (Social Sciences Citation Index) and ranked 22 out of 70 in History, 16 out of 36 in History of Social Sciences and 7 out of 13 in Psychology, Psychoanalysis, with an impact factor of 0.33 (2013).
Psychoanalysis and History comprises a combination of articles, review essays and book reviews. The current issue, published in January 2015, includes topics such as "A Contribution to the History of Psychoanalysis in Poland and France", "Considerations on the Concepts of the Subject and of Consciousness" and "Adam Phillips and the Making of a Psychoanalyst." The journal's most downloaded articles in the past include "The Dissemination of Freud's Works into the British Discourse of Psychological Medicine, 1904 – 1911", and "History and Psyche: Culture, Psycholanalysis, and the Past".
For more information on Psychoanalysis and History and to download a sample copy, please visit http://www.euppublishing.com/journal/pah