Guest blog by Maeve Croghan, Account Manager at Kudos
A number of you have already signed up for Kudos, the free service EUP provide in order to track, measure and extend the impact of your research. If not, you can register here.
Kudos have recently introduced 'Featured Images' – the latest way to help you to increase the visibility of your work. The feature allows you to easily add a photo to your publications on Kudos in order to ensure your work stands out from the crowd.
The feature has proved to be immediately popular with authors and since its official launch at the start of March nearly 3,000 authors have added an image to their work. Check out this example from EUP author Richard Angelo Bergen below;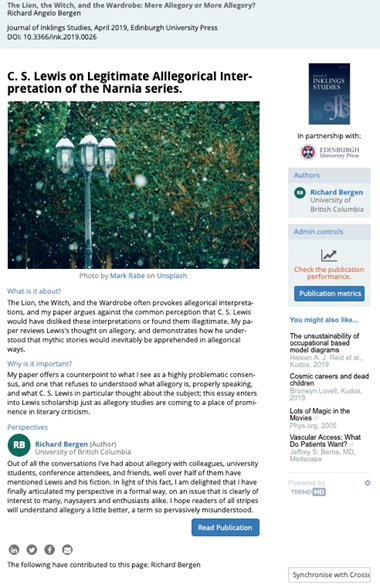 The power of the visual is well known, with a recent study by MDG Advertising showing that content featuring compelling images averages 94% more total views than content without.[1]
Some authors have found that views of their profile pages have increased by 35% since adding a featured image.[2]
Authors can choose from a wide range of images that either directly link to the subject matter or provide a more abstract representation of the theme.
Images are provided by Unsplash, and are all free and safe to use as well as having the added bonus of being copyright compliant.
So add a featured image today and help increase the visibility of your research.

---
[1]Michael del gigante. 2018. MDG Advertising. [Online]. [27 March 2019]. Available from: https://www.mdgadvertising.com/marketing-insights/infographics/its-all-about-the-images-infographic/
[2] Charlie Rapple, 2018. Grow Kudos. [Online]. [24 June 2019}. Available from: https://blog.growkudos.com/2019/03/11/kudos-featured-images